Fed up Mum Places Ad for a Nanny to Teach Her Husband and Sons to Help With the Housework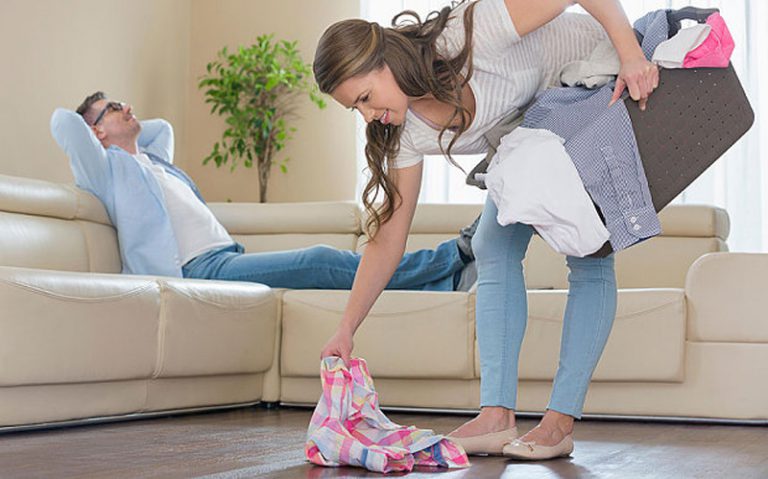 Fed up Mum Places Ad for a Nanny to Teach Her Husband and Sons to Help With the Housework
A mother has finally had enough of having to do everything around the house while she works full time, and has placed an advertisement on a nanny website asking for someone to come and teach her husband and sons to help around the house.
The mother of two from the UK has taken to a popular childcare services website, posting a request for help as she just can't take it anymore. She expressed concern that her husband's sexist attitude regarding household chores might rub off onto their 11- and 9-year-old boys and is thinking of their future wives.
She wrote:
HELP!
I've been trying to get my husband to do his fair share of the housework for years now, and despite the fact I work as well, he always says he's too tired when he gets home. To be fair to him he does work long hours, but a little help here and there would go a long way, and recently I've started questioning whether or not he actually knows how to do half of the things I do every day. He doesn't even know how to put the washing on, and the most he'll do is bring the plates to the kitchen and maybe wash up every now and then.
Obviously this is probably something loads of couples go through, but we've got two sons and I'm worried his bad attitude towards housework, particularly that it's the job of women in the house, is rubbing off on them. My husband's amazing, he gives so much for our family and I appreciate everything he does for us, but his attitude to housework is just appalling.
The boys are 11 and 9 and I can only recall once or twice where either of them has done the washing up since Christmas, and I think it's time they learn how to do at least the basic household chores. I don't want their future wives to have the same problem!
At the moment I work until 3pm, and my husband works 9am – 5pm Monday to Friday, but I'm about to start a new job where I won't finish until 7pm. Despite getting home at half 3 every day, most nights I don't sit down to relax until 8 or 9 just because there's so much stuff to do around the house.
Because I'm starting my new job we're looking for someone to pick the boys up from school at 3:15, and look after them until either my husband or me is home. However, I also want the carer to teach my boys, including my husband, how to do the chores around the house. For me, the most important stuff to think about is; teaching them how to cook, clean, hoover, wash up, do the washing, putting clothes away, and ironing.
I'd also like the childcarer to stay for an extra hour after we get home from work so that my husband can see the kids doing some chores, and learn a bit himself. He hasn't done any housework really since our youngest was born, as I had to have a caesarean, and obviously couldn't do much for a while after.
I know that this might look like a bit of a moan, but I'm already shattered every day and I'm only doing 6 hours a day, and when I go up to 8 it's only going to get worse.
I love my family so much and I hate that I have to spend so much of my time doing housework, I feel like if the four of us did all of it together we'd just get so much more time together.
While outsourcing the task sounds fab, here comes my suggestion.
Go. On. Strike.
Absolutely refuse to lift a finger to do anything apart from basic food prep — and I mean basic. I mean everyone eats cereal for dinner.
I mean no washing, drying or ironing of anyone else's clothing, no vacuuming, no picking up after anyone, nada.
When they inevitably ask why their faithful house slave has stopped taking care of every single thing they now miss desperately, show them how to do it themselves. This gravy train has left the station.
Then, once everyone has learnt their lesson and has now realised the value of their wife and mother, hire a one-time cleaner to bring the house back up to standard and purchase a big whiteboard and assign chores to balance the housework fairly among all family members with everyone adding input to the new plan.
Giving the task to someone else to teach them all how to do housework isn't teaching them how to respect her and the effort she goes to within the house. And this is an important lesson for her husband and children to learn.
But we do wish this worn out mum the very best of luck with everything, it sounds like she needs it.
What are your thoughts?
Source: childcare.co.uk