Furious Wife Puts up Posters After Discovering Her Husband Has Been Cheating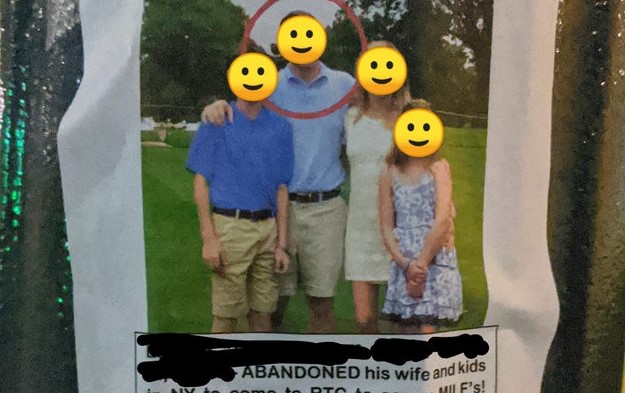 Furious Wife Puts up Posters After Discovering Her Husband Has Been Cheating
A woman has plastered a town in flyers warning her ex-husband's new neighbours that he had 'abandoned' her and her two children to live with another woman while they are still married.
Not wanting to go down without a good amount of revenge, the scorned wife exposed her husband of cheating by including a giant coloured picture of the entire family prior to the breakup. But in wanting to emphasise that her husband had abandoned the whole family, the mum has come under fire for involving their children in her revenge.
The posters were spotted in the US, showing a family photo with a red circle around the husband, alongside his wife and two children.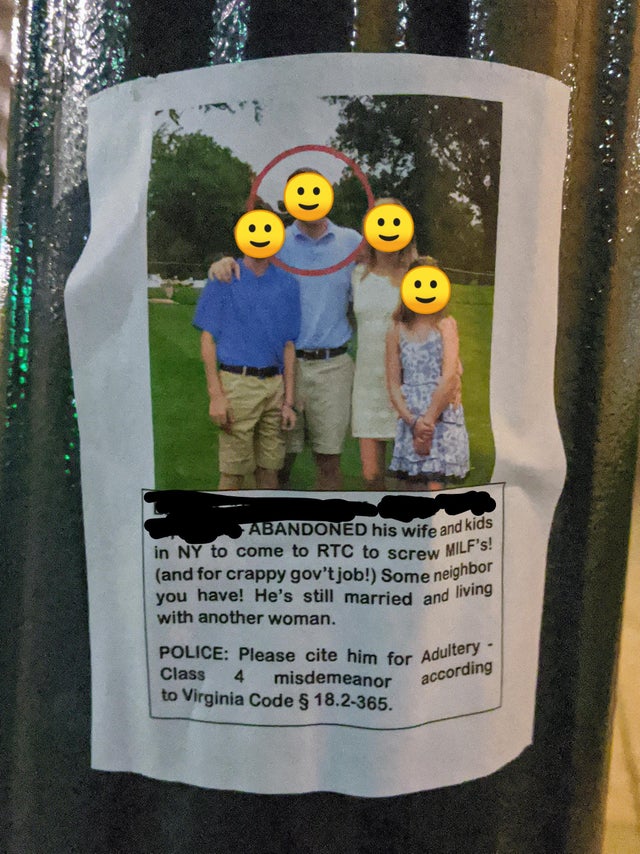 The smiley faces were added to the image by the Redditor who shared the posters to the subreddit Cheating Stories recently. They added that the posters were torn down the day after this photo was taken.
While they could understand her rage, people were quick to criticise the woman for including the children so publicly in her revenge ploy.
"Why would she put the kids' pictures on the flyers?! Do that to this scumbag if you wish."
"Considering the children's pics are on there, I'm sure they have already been put through hell by their parents. I get it, a lover scorned, but the kids? Really?"
Another wrote: "I would never do this either way, but I can't understand why she didn't just do a giant headshot of him. I understand she wants to emphasize the abandonment of his family component, but I feel like the words would have been enough."
What the woman had hoped to achieve by this is unclear. Generally speaking, people simply don't care enough about marital dramas in random people's lives to actually impact the man's future.
This little stunt is only going to hurt these children. And there is no doubt that they are already damaged by the acrimonious split of their parents.
Source: Reddit/Cheating Stories