Groomsman's 'Cruel' Prank the Night Before the Wedding Sparks Fury
Groomsman's 'Cruel' Prank the Night Before the Wedding Sparks Fury
A groomsman has marked his place as the shittiest friend of all time after pulling a devastating prank the night before his friend was to get married.
In what can only be described as the most terrible idea ever, the groomsman decided to send the bride a bouquet of flowers in the groom's name with a card bearing only the words "I don't".
The. Night. Before. Her. Wedding. Day.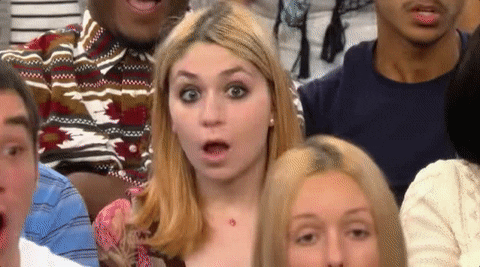 Understandably utterly distraught, the bride contacted her wedding planner who got to the bottom of the prank at an ungodly hour only to find that the groom had no idea that his groomsman had caused so much distress to his bride-to-be. Again, just hours before the actual wedding was to take place.
Quick question – how lovely do we all look the day after we've cried our eyes out the night before? Like two bald pink caterpillars have taken residence above our eyeballs? Yep. Good luck to that bridal party and make-up artist to cover up the aftermath of that prank.
The aforementioned wedding planner explained what happened in a thread on Reddit about the most outrageous card messages florists had been asked to write.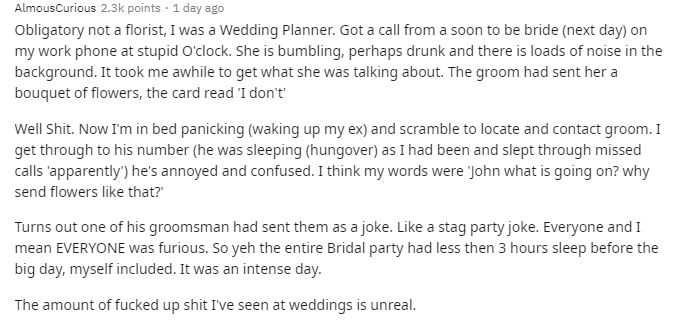 The wedding planner went on to add that the groomsman was still invited to the wedding, but had been demoted to a regular guest and replaced by another groomsman's son. She added that she spent the day glaring intensely at him. As you would.
Just what sort of idiot would play this sort of malicious prank on another innocent human being right before the biggest day of her life? So help me, I'll never understand why some people think those kind of cruel jokes are funny.
The first lesson we can learn from this is to never hold your bachelor/bachelorette parties the night before your nuptials. No one looks radiant hungover.
The second lesson is to perhaps choose better friends to share in your joyous occasion. The type who wouldn't dream of ruining everything for a laugh.
Source: Reddit and Giphy