Kind-Hearted Bus Driver Braids School Girl's Hair Every Morning After Her Mum Passed Away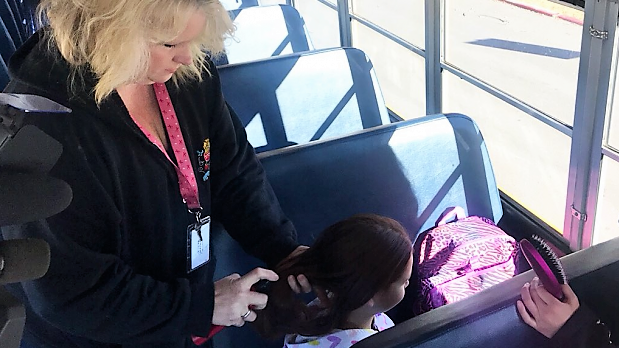 Kind-Hearted Bus Driver Braids School Girl's Hair Every Morning After Her Mum Passed Away
A school bus driver has been praised for her kindness after the story of her braiding a young girl's hair every day made international news.
Every morning, 11-year-old Isabella Pieri gets ready for school on her own. Her dad leaves for work early and her mum passed away two years ago after a long battle with a rare illness. Isabella had no one to help her style her hair so she just brushed it and pulled it into a ponytail and called it a day.
Then one morning Isabella saw her bus driver, Tracy Dean, fixing another girl's braid and plucked up the courage to ask her if she could do her own hair as well.
Now Tracy styles each girl's hair almost every morning.
"Seven years ago, I found out I had breast cancer, and that's one of the things that went through my head — who is going to take care of my little ones?" Tracy explained.
"Not that my husband couldn't do it, but you know, that's what mum's do. They do their kids' hair."
Isabella never knows what style she will get each day — sometimes a single braid, sometimes two braids, and sometimes Tracy mixes it up with a flower clip too.
The kind-hearted bus driver says that she interacts with the children on the bus as if they were her own children.
"You can't be shy, you've got to talk to them. You treat them like your own kids, you know,"  Tracy says.
Isabella's dad Philip Pieri has noticed how much Tracy's kindness has meant to his daughter. He explained that he wasn't able to create the beautiful hairstyles that she wanted so after his wife passed away he had Isabella's hair cut into a much shorter style.
"I originally just gave her a crew cut because I didn't know how, and it was all tangled and I couldn't get it out for anything," Philip said.
"Tracy didn't have to step up, but she stepped up to help out, I was amazed."
Even Isabella's teachers are noticing a change in her demeanour.
"I just noticed her head was a little higher that morning," her teacher Mrs Freeze said, "and she had a little more of a step."
"It makes me feel like she's a mum pretty much to me," Isabella said. "And it makes me excited for the next day to see what she does."
How utterly beautiful. Bravo, Tracy!
Source: KSLTV