Prank Post Urging Men to Inject COVID-19 Vaccine Into Their Penis Is Doing the Rounds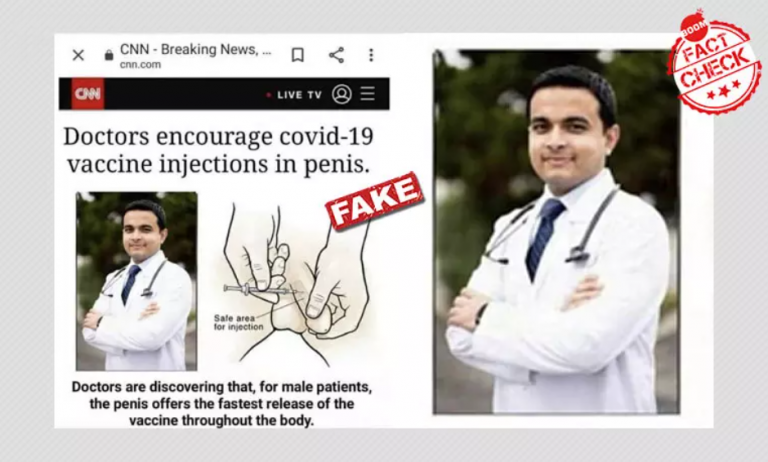 Prank Post Urging Men to Inject COVID-19 Vaccine Into Their Penis Is Doing the Rounds
If recent events have taught us anything, it is that there are huge amounts of grown-arse adults that believe everything they read on the internet. Taking advantage of this fact, some very clever individuals have created a post urging men to inject the new COVID-19 vaccine directly into their penis.
The post itself is a clearly fake screengrab of a Breaking News article on CNN, claiming that injecting the vaccine into the penis will ensure that it spreads much more quickly throughout the body than normal methods.
The image appears to be a screenshot of a CNN article with the headline: 'Doctors encourage covid-19 vaccine injections in penis.' The post falsely claims that 'Doctors are discovering that, for male patients, the penis offers the fastest release of the vaccine throughout the body.'
It's accompanied by a picture of Mohitkumar Ardeshana, a hormone therapy doctor from Biote Medical's Claremont Medical Center in California.
"The article is completely fake," he told fact-checking site Boom Live. "I have not said anything about such a study. It is a work of mischief by someone."
This work of mischief is spreading like wildfire on Facebook, fooling many people as it is being spread in part by supporters of outgoing US President Donald Trump.
Did a doctor really say that the #COVID19 vaccine is best administered via the penis? Please tell us it isn't true! #vaccination #vaccine #VaccinePolitics #vaccines #VaccineStrategy #CovidVaccine pic.twitter.com/NL9Nd2h7tL

— Vivek Bajpai विवेक बाजपेयी (@vivekbajpai84) January 3, 2021
So just to be clear, no one is suggesting that the COVID-19 vaccine works better if it is injected via your dick.
All COVID-19 vaccinations will be administered directly into your arm, just like most other vaccines.
Source: Boom Live, Facebook and Twitter