Recipe To Riches: A Look at Some of the Wacky Food Combinations So Far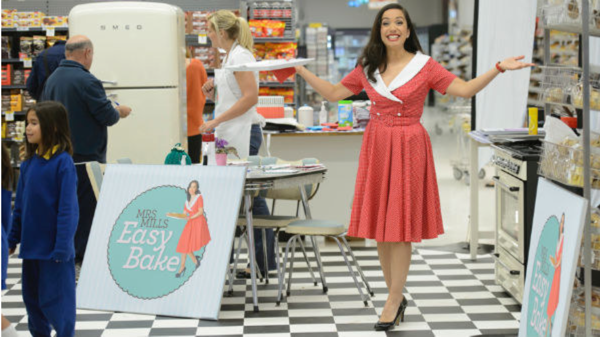 Image Source: Channel 10
Recipe To Riches Recap – Whats Happened So Far
If you've been watching Recipe to Riches on Channel 10, you would have noticed that the cooking lists seem to be the craziest we've seen on the show since it started!
It is halfway through its second season already so its time to recap what we've seen so far.
They kicked off the first episode with baking. Who doesn't like cookie dough? Who hasn't gone to the supermarket and purchased that knob of cookie dough and just eaten it straight from the packet? Before you know it, there's only enough left to bake half of what it is meant to!
The final product to this episode was Mrs Mills Easy Bake – a ready to bake chocolate chunk cookie dough. The recipe was AJ's Mums creation originally and AJ was determined to perfect it. It consists of butter, brown sugar, chocolate, eggs, plain flour and sour cherries.
Image Source: Channel 10
The BBQ episode was one that will be hard to forget. Pork, apple and cinnamon sausages. Because they are the first flavours you would think to put into a sausage, right? Michael, the creator of this recipe, grew up on sausages and weirdly always associated them with cinnamon. Michael King of Sausages was the outcome. Maybe putting a random ingredient into an everyday recipe isn't so bad after all! Tomato sauce on your sundae? Salt and pepper on your mango? Tuna in your fruit salad?
Image Source: Channel 10
The gym buffs and clean eating fanatics would have been big fans of the third episode. These tiny chocolate balls, not much bigger than a malteser, have the same amount of nutrition and variety of ingredients as a regular muesli bar.
They contain nuts, dates, chia seeds, coconut oil and rice malt syrup. The idea behind Darcy's Choc Bombs was to be able to pop one in your mouth and eat it easily with convenience no matter where you are or what you're doing.
Image Source: Channel 10
The most important meal of the day – Breakfast. So many ideas, but breakfast ice-cream? Really?
How can you eat nutritional, guilt free ice-cream for breakfast?
Heather, the creator of Breakfast Sunrise, came up with the idea after a breakfast smoothie went wrong. This healthier alternative is made from oats, muesli and honey. It didn't take out the top prize in this episode, but I'm sure there are a lot of people who wouldn't mind trying it out!
Hi, I'm Jess.
Mum of 3 kids, happy wife and self-confessed gossip queen.
I have a background in media and this is where my love of all things celeb began.
Being a mother myself I understand we don't always have time to sit down, have a cuppa and catch up on the latest breaking gossip stories – this is where I come in!
Join me here for your weekly celeb goss round-up and be sure to connect with me on Facebook at Keeping Up With Jess and Instagram at kuwj.