Softball Player Fakes an Injury to Propose to Her Girlfriend in the Middle of a League Match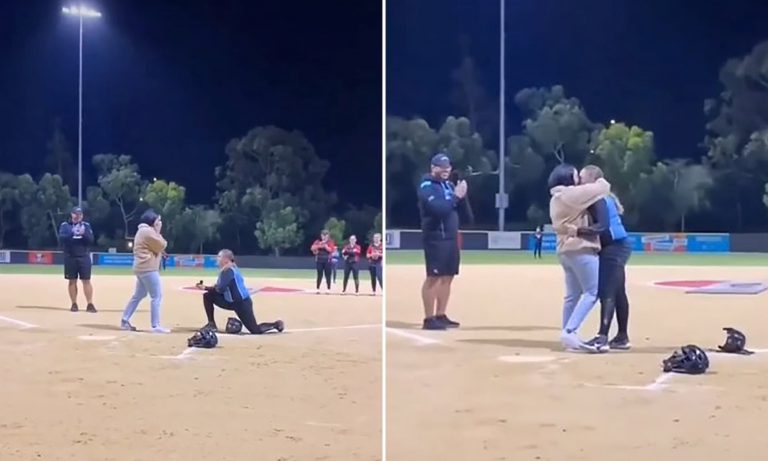 Softball Player Fakes an Injury to Propose to Her Girlfriend in the Middle of a League Match
We're almost at the end of another difficult year and as such, we could all use a little extra joy in our lives. And so, we present to you one of the sweetest coordinated surprise proposals of all time.
With the help of friends, family, and her coach, Sara Riou planned to propose to her girlfriend of two years, Jacinta Comande, in the middle of her league softball game in Mirrabooka, Perth, last week.
Her genius plan? Faking an injury!
Jacinta shared a video of her surprise proposal on TikTok where it has been liked more than 1.6 million times.
"Sara had told me it was this huge game and that she'd invited all our friends and family down to watch," Jacinta explained to the Daily Mail. "I didn't suspect a thing, and when she went down injured I was obviously really worried about her.
"I ran over and that's when she proposed – I was so surprised and it was such a special moment."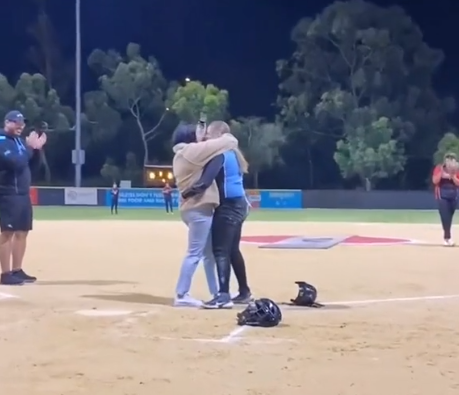 "It was really strange because after it happened they carried on and finished the match, and I walked back to the stands as an engaged woman.
"She really pulled it out the bag and I can't wait to spend the rest of my life with her."
"THIS IS BEAUTIFUL!! Congratulations!" wrote one supporter on TikTok.
"This proposal was a home run," punned another.
"I love how the coach knew, he pulled away the catcher to make sure the camera could see," noted a third.
And if that clip wasn't beautiful enough, Jacinta followed it up with another, giving us a little more info on the big event.
How utterly lovely. Congratulations, you two!!
Source: TikTok/Jacinta Comande