These Hilarious Examples of Couples Being Petty With Each Other Will Inspire You to up Your Petty Game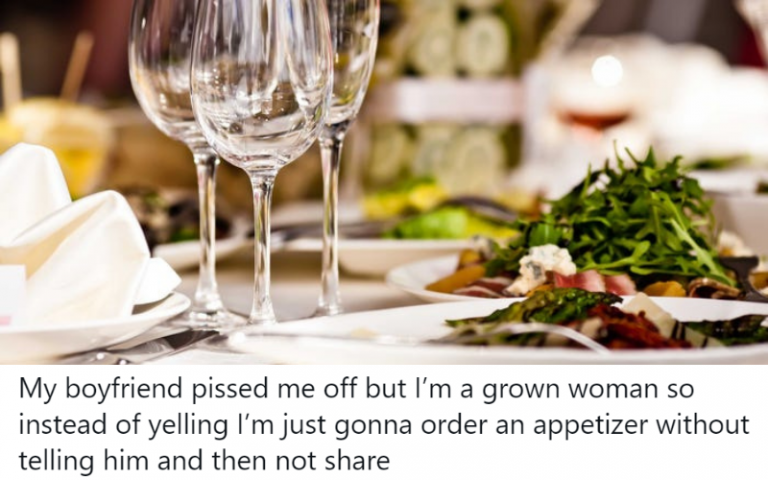 These Hilarious Examples of Couples Being Petty With Each Other Will Inspire You to up Your Petty Game
A strong relationship is built on a foundation of communication, sure. But we also like to think that a good sense of humour and a proper amount of banter helps too! And one of the best ways to break up the monotony of monogamy can be to get good and petty with our partners when things don't quite go to plan. Here are some of our favourite examples of couples being petty with one another that are too funny not to share.
My husband pissed me off today so I told him that I can't wait to see what he had planned for our special day tomorrow

There is nothing special about tomorrow

But there is something special about watching the color leave his face as the panic takes over

— kids_kubed 🇨🇦 (@Kids_kubed) January 11, 2020
My husband is obsessed with keeping our new car in pristine condition, so I carry a little vial of glitter with me at all times in case he pisses me off.

— SpacedMom (@copymama) December 5, 2018
My wife ate the last donut this morning so I went in her car and readjusted the driver's seat and mirrors.

— Forward March (@RunOldMan) March 11, 2021
My husband pissed me off so I took photos of me using his tools improperly and sent them throughout the day while he was at work as payback

— Maryfairyboberry🧚🏻‍♀️ (@maryfairybobrry) November 15, 2020
Me folding laundry when I'm mad at my husband: I am LEAVING HIS UNDERWEAR INSIDE OUT! Take that motherfucker.

— 𝕆𝕝𝕚𝕧𝕖 𝕆𝕪𝕝 🌷 (@Shae20) March 9, 2019
My husband pissed me off so when he wasn't looking I poured water on the floor in front of the dishwasher. He's been fixing it for the past 2 hours.

— 🎭ᑌᖇᔕᑌᒪᗩ🎭 (@3sunzzz) October 12, 2019
My husband pissed me off and think he finna sit in the living room and watch tv in peace. So, I downloaded the LG remote app and keep turning the TV off from the bedroom.

He came in here and I acted like I was sleep. So now he thinks we have ghosts. ☠️☠️☠️

— Custom Graphic Print Shop (@TouchedByTy) November 3, 2019
My husband pissed me off so I made him his favorite chocolate chip cookies and used black beans instead of chocolate

— Maryfairyboberry🧚🏻‍♀️ (@maryfairybobrry) December 9, 2020
When I'm mad at my husband I like to plug my usb mouse into his computer and move the mouse around while he's playing online games

— Professional Worrier (@pro_worrier_) February 9, 2021
I know it sounds mean but when I'm mad at my wife and want to lash out, I open a bottle of some condiment when there's already one open.

— Boyd's Backyard™ (@TheBoydP) December 27, 2020
My wife got a Fitbit for the sole purpose of proving how many times I wake her up in the middle of the night by snoring.

— Simon Holland (@simoncholland) January 20, 2016
husband pissed me off tonight so I gave him button up PJ's for the baby 🙂💛

— cam (@cameryncarterr) August 4, 2020
I'm mad at my wife so I liked a lot of songs on her Pandora playlist that I know she didn't like

— Robert Knop (@FatherWithTwins) December 7, 2020
My boyfriend pissed me off but I'm a grown woman so instead of yelling I'm just gonna order an appetizer without telling him and then not share

— Megs (@meganrhanks) April 18, 2019
When I'm mad at my girlfriend I just tell her I saw a huge spider in the house and let it live.

— Ed Jaundrell (@EdJaundrellSTC) May 26, 2016
My husband pissed me off so I logged into his beer rating app and gave a bunch of mediocre beers five-star reviews.

— Not the Nanny (@not_thenanny) April 23, 2020
Thinking about making an audio recording of me eating cereal and clanking my spoon on the bowl just to send to my wife when we are in a fight.

— Simon Holland (@simoncholland) February 24, 2021
It's the little things, that make a marriage special, right?
Do you have any petty, passive-aggressive tales to share with us? Sound off in the comments!