This Is Why You Probably Shouldn't Leave Your Baby on a Slope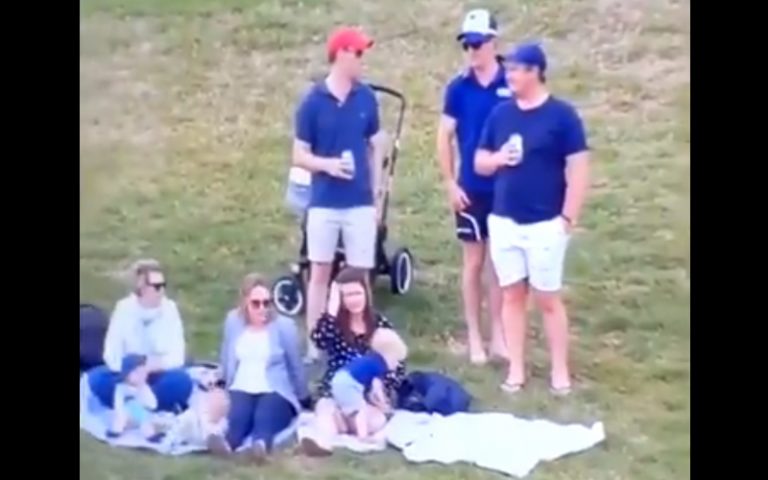 This Is Why You Probably Shouldn't Leave Your Baby on a Slope
Do you remember when you were a first-time parent and feeling the overwhelming urge to protect your tiny baby from harm at all costs? Every single thing we do as parents is to ensure our little ones are safe and out of harm's way.
That instinct is strong!
Well, usually.
Most of the time.
Okay, so there is a video doing the rounds that is in equal parts hilarious and shocking nah, absolutely hysterical.
You might need to watch it a couple of times to see everyone's reactions:
Bruh… pic.twitter.com/YdmRBI3HtA

— Beer Bryant (@DontrellChillis) October 13, 2018
We're not sure what's funnier, the fact that absolutely no one looked concerned except the little guy's mum, or the fact she nearly sat on him as she stopped him from rolling all the way to the bottom! Her friends thought it was hilarious, as did Twitter:
Whew I'm going to hell pic.twitter.com/nbnF6YbEui

— Name goes Here 🎧 (@meangirl33) October 13, 2018
Just watched it 30 times. Love the dads

— Cody Calkins (@Redsyrup) October 13, 2018
Meanwhile the men are like "Man look at that baby roll!"… They didn't move a muscle! Lol

— Tracey Courtwright (@DoItalkFunny) October 13, 2018
Not sure what I like most;

1. The delayed reaction of mum, seeing her baby roll away.

2. The other mothers cracking up.

3. The dads, not bothered.

— reckless monkey 🐵 (@loftymonkey) October 14, 2018
Ahhh parenthood. If you didn't laugh, you'd cry!
Seriously though, while there is no news on the actual condition of the baby, we're sure he's just fine. Twas but a wee tumble on a grassy hill.
But I mean look at everyone's faces…
Good times.
Source: Twitter/Beer Bryant