Women Outraged as Three German Men Invent Bright Pink Gloves to Use While Handling Period Products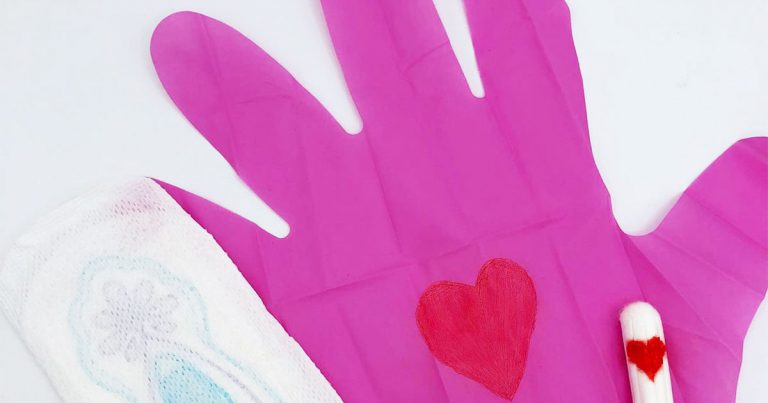 Women Outraged as Three German Men Invent Bright Pink Gloves to Use While Handling Period Products
In a move that has sparked outrage among vagina owners everywhere, three German men have solved a problem that we didn't know we even had – how to avoid getting period blood on our hands while handling pads and tampons. Humorously, the answer comes in the form of giant hot pink gloves that double as dog poop bags for our sanitary products to be disposed of.
I shit you not.
View this post on Instagram
Described as a "solution" to disposing of tampons and pads while "on the go, at parties or in nature", Pinky Gloves were created after the founders apparently spoke to their female roommates about the "challenges of disposing tampons," HuffPost UK reports. How hard can it be? Remove pad/tampon, wrap in toilet paper or the packaging it came in (or one of those discreet little scented bags you can already buy at the supermarket), and voila! Challenging problem solved!
The creators even made an appearance on the German version of Shark Tank where one of the sharks actually invested in the hot pink product, failing to realise that these gloves are not a new invention to anyone who has coloured their hair at home with a box kit.
The invention has gone down like a lead balloon with women on social media, who've accused the men of "mansplaining" periods, as well as contributing to the discourse that periods are dirty, shameful, and must be hidden. They are also contributing to more unnecessary plastics in the world's landfills, but one thing at a time.
Wow. Just. Wow. pic.twitter.com/z9gj5NqahU

— Tabetha Wallace (@TabethaWatching) April 14, 2021
These are so enormous I can only assume you've meant to put one tampon in each finger and wait to throw the whole thing away until you've filled all five.

— Claire Kenny (@ClaireicalError) April 14, 2021
Do they know that we can just put them in the garbage can and then… wash our hands? Who is this for??

— Stevie Jackson 🏳️‍🌈 (@steviekayjay) April 14, 2021
So ~discreet~. Thanks men for helping us little ladies w/such a complex & confusing problem. We definitely haven't been successfully managing our bodies every month for all of collective human civilization on our own. Thank God you came up with this innovative way of saving us.

— KellyGreen (@kellygreen514) April 14, 2021
Honestly, leave it to men to overcomplicate shit women have just been quietly dealing with since they were preteens.

— Lynne Thomas (@LaTR75) April 14, 2021
The men involved have responded to their ridicule via a statement on their Instagram account.
"It became clear to us through the many comments from you that there are serious points of criticism that we were simply not aware of, although we should have been," the statement reads. "We have not dealt adequately and properly with the subject. That was a big mistake."
"We are absolutely in favor of removing the taboo from the subject. We realized that we still have a lot to learn and that we have some blind spots. We take your feedback very seriously and rethink our product and reflect on the entire history of its creation."
View this post on Instagram
Look at how proud they were of their wonderful solution to a nonexistent problem. Doofuses.
Source: Instagram/Pinky Gloves