15 Summer Holiday Reading Ideas for 2017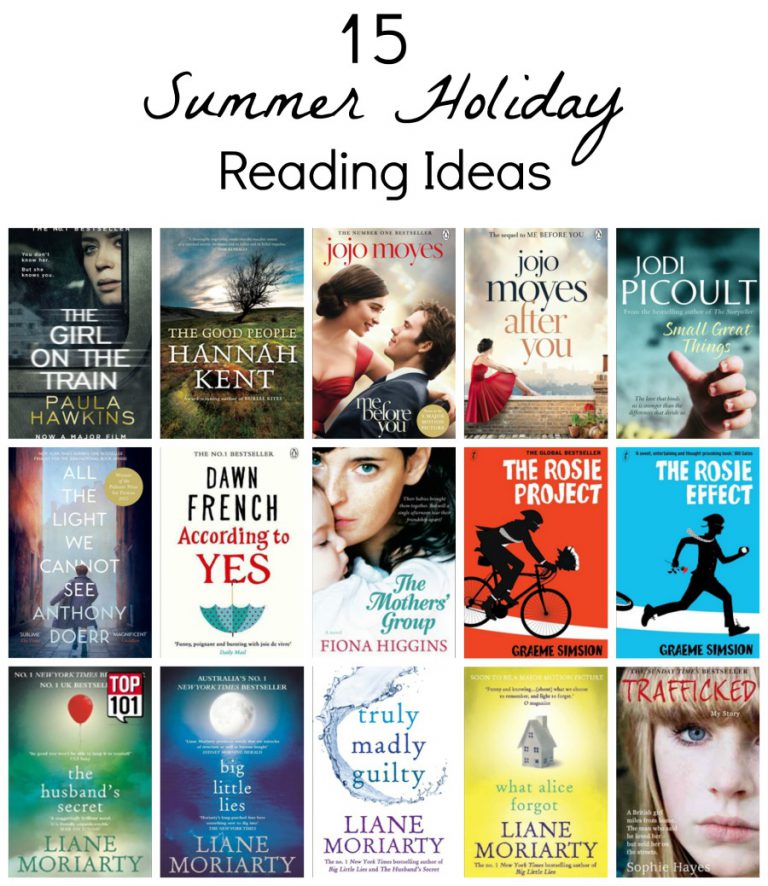 15 Summer Holiday Reading Ideas for 2017
Christmas and New Year holidays are the only times most parents get time to stop and catch up on doing relaxing things like watch movies or read books.
If you've had your head down, bum up, working all year, it can be hard to know what books out there are worth reading.
My reading time is limited so I don't want to waste it on a book that I won't enjoy. The beauty of reading is you sometimes never know if you're going to love a book until you've started reading it.
We've asked what books should be on our reading list these holidays and these are the suggestions that were put forward, and most came with 'I couldn't put it down' or 'I had to buy the sequel straight away'.
With comments like that, we put this list together if you're after some inspiration.
This book is THE RUNAWAY SUNDAY TIMES NO.1 BESTSELLER AND THRILLER OF THE YEAR, NOW A MAJOR FILM STARRING EMILY BLUNT.
Rachel catches the same commuter train every morning. She knows it will wait at the same signal each time, overlooking a row of back gardens. She's even started to feel like she knows the people who live in one of the houses. Jess and Jason, she calls them. Their life as she sees it is perfect. If only Rachel could be that happy. And then she sees something shocking. It's only a minute until the train moves on, but it's enough. Now everything's changed. Now Rachel has a chance to become a part of the lives she's only watched from afar. Now they'll see; she's much more than just the girl on the train.
From the bestselling author of the multi-award-winning Burial Rites.
Nóra Leahy has lost her daughter and her husband in the same year, and is now burdened with the care of her four-year-old grandson, Micheál. The boy cannot walk, or speak, and Nora, mistrustful of the tongues of gossips, has kept the child hidden from those who might see in his deformity evidence of otherworldly interference. Unable to care for the child alone, Nora hires a fourteen-year-old servant girl, Mary, who soon hears the whispers in the valley about the blasted creature causing grief to fall upon the widow's house. Alone, hedged in by rumour, Mary and her mistress seek out the only person in the valley who might be able to help , Micheál. For although her neighbours are wary of her, it is said that old Nance Roche has the knowledge. That she consorts with Them, the Good People. And that only she can return those whom they have taken …
A New York Times Number 1 Bestseller that was turned into a No 1 Box-Office Smashing Movie starring Emilia Clarke and Sam Claflin
Lou Clark knows lots of things. She knows how many footsteps there are between the bus stop and home. She knows she likes working in The Buttered Bun tea shop and she knows she might not love her boyfriend Patrick.
What Lou doesn't know is she's about to lose her job or that knowing what's coming is what keeps her sane.
Will Traynor knows his motorcycle accident took away his desire to live. He knows everything feels very small and rather joyless now and he knows exactly how he's going to put a stop to that.
What Will doesn't know is that Lou is about to burst into his world in a riot of colour. And neither of them knows they're going to change the other for all time.
The Sequel to Me After You.
Lou Clark has lots of questions.
Like how it is she's ended up working in an airport bar, watching other people jet off to new places.
Or why the flat she's owned for a year still doesn't feel like home.
Whether her family can ever forgive her for what she did eighteen months ago.
And will she ever get over the love of her life.
What Lou does know for certain is that something has to change.
Then, one night, it does.
But does the stranger on her doorstep hold answers Lou is searching for – or just more questions?
Close the door and life continues: simple, ordered, safe.
Open it and she risks everything.
But Lou once made a promise to live. And if she's going to keep it, she has to invite them in . . .
Dawn French, number one bestselling author of A Tiny Bit Marvellous and Oh Dear Silvia, returns with her joyously funny new novel, According To Yes. The Foreign Land of the Very Wealthy – otherwise known as Manhattan's Upper East Side – has its own rigid code of behaviour. It's a code strictly adhered to by the Wilder-Bingham family. Emotional displays – unacceptable. Unruly behaviour – definitely not welcome. Fun – no thanks. This is Glenn Wilder-Bingham's kingdom. A beautifully displayed impeccably edited fortress of restraint. So when Rosie Kitto, an eccentric thirty-eight-year-old primary school teacher from England, bounces into their lives with a secret sorrow and a heart as big as the city, nobody realises that she hasn't read the rule book. For the Wilder-Bingham family, whose lives begin to unravel thread by thread, the consequences are explosive. Because after a lifetime of saying no, what happens when everyone decides to start saying . . . yes?
A beautiful, stunningly ambitious novel about a blind French girl and a German boy whose paths collide in occupied France as both try to survive the devastation of World War II. 'Open your eyes and see what you can with them before they close forever.' For Marie-Laure, blind since the age of six, the world is full of mazes. The miniature of a Paris neighbourhood, made by her father to teach her the way home. The microscopic layers within the invaluable diamond that her father guards in the Museum of Natural History. The walled city by the sea, where father and daughter take refuge when the Nazis invade Paris. And a future which draws her ever closer to Werner, a German orphan, destined to labour in the mines until a broken radio fills his life with possibility and brings him to the notice of the Hitler Youth. In this magnificent, deeply moving novel, the stories of Marie-Laure and Werner illuminate the ways, against all odds, people try to be good to one another.
A woman is caught in a gripping moral dilemma that resonates far beyond her place in time and history in #1 New York Times bestseller Jodi Picoult's latest.
'If I cannot do great things, I can do small things in a great way.' Martin Luther King Jr
'I don't want that nurse touching my baby.' Those are the instructions from the newborn child's parents. However, when the baby goes into cardiac arrest, Ruth, a nurse of twenty years' experience, sees no option but to assist. But the baby dies. And Ruth is charged with negligent homicide.
Ruth is shattered and bewildered as she tries to come to terms with her situation. She finds different kinds of support from her sister, a fiery radical, and her teenage son, but it is to Kennedy McQuarrie, a white middle-class lawyer, to whom she entrusts her case, and her future.
As the two come to develop a truer understanding of each other's lives, they begin to doubt the beliefs they each hold most dear. For the privileged to prosper, they come to realise, others have to suffer. Racism takes many forms and is reinforced by the structures of our society.
In gripping dramas like Nineteen Minutes, My Sister's Keeper and The Pact, Jodi Picoult has explored the big issues of our time through characters whose lives resonate with us. Here we see once again her unrivalled ability to immerse us in a story whose issues will linger with us long after the final page has been turned.
The acclaimed bestseller about a remarkable group of mothers and their trials, joys and secrets.
The story follows a group of mums who meet each other at a local mother's group and become friends, despite having little in common, other than being mothers.
The international bestseller. Over three million copies sold worldwide.
Bill Gates a Don Tillman is getting married. He just doesn't know who to yet. But he has designed the Wife Project, using a sixteen-page questionnaire to help him find the perfect partner. She will most definitely not be a barmaid, a smoker, a drinker, or a late-arriver.
Rosie Jarman is all these things. She is also fiery and intelligent and beautiful. And on a quest of her own to find her biological father: a search that Don, a professor of genetics, might just be able to help her with. The Wife Project teaches Don some unexpected things. Why earlobe length is an inadequate predictor of sexual attraction. Why quick-dry clothes aren't appropriate attire in New York. Why he's never been on a second date. And why, despite your best scientific efforts, you don't find love: love finds you.
'We've got something to celebrate,' Rosie said. I am not fond of surprises, especially if they disrupt plans already in place. I assumed that she had achieved some important milestone with her thesis. Or perhaps she had been offered a place in the psychiatry-training programme. This would be extremely good news, and I estimated the probability of sex at greater than 80%.'We're pregnant,' she said.
Don Tillman and Rosie Jarman are now married and living in New York. Don has been teaching while Rosie completes her second year at Columbia Medical School.
Just as Don is about to announce that Gene, his philandering best friend from Australia, is coming to stay, Rosie drops a bombshell: she's pregnant. In true Tillman style, Don instantly becomes an expert on all things obstetric. But in between immersing himself in a new research study on parenting and implementing the Standardised Meal System (pregnancy version), Don's old weaknesses resurface. And while he strives to get the technicalities right, he gets the emotions all wrong, and risks losing Rosie when she needs him most. The Rosie Effect is as charming and hilarious as its predecessor.
When everything seemed to be falling apart in Sophie's life, she was thankful for her friend Kas, who was always at the end of a phone, ready to listen and to offer comfort and advice. Gradually, Kas made her believe there was at least one man who truly cared about her. But she was wrong.
All The Books By Liane Moriarty
Liane Moriarty is a new favourite author and these four novels are perfect for your summer reading collection. Easy to read, yet mind provoking, here are the popular picks from our favourite author.
Cecilia Fitzpatrick, devoted mother, successful Tupperware business owner and efficient P&C President, has found a letter from her husband. "For my wife, Cecilia Fitzpatrick, to be opened only in the event of my death" But Cecilia's husband isn't dead, he's on a business trip. And when she questions him about it on the phone, Cecilia senses something she hasn't experienced before. John-Paul is lying. What happens next changes Cecilia's formerly blissful suburban existence forever, and the consequences will be life-changing for the most unexpected people.
Pirriwee Public's annual school Trivia Night has ended in a shocking riot. A parent is dead. Was it murder, a tragic accident… or something else entirely? Big Little Lies is a funny, heartbreaking, challenging story of ex-husbands and second wives, new friendships, old betrayals and schoolyard politics. 'Let me be clear. This is not a circus. This is a murder investigation.'
IF ONLY THEY'D SAID NO…Clementine is haunted by regret. It was just a barbeque. They didn't even know their hosts that well, they were friends of friends. They could so easily have said no. But she and her husband Sam said yes, and now they can never change what they did and didn't do that Sunday afternoon. Six responsible adults. Three cute kids. One playful dog. It's an ordinary weekend in the suburbs. What could possibly go wrong? Marriage, sex, parenthood and friendship: Liane Moriarty takes these elements of our lives and shows us how guilt can expose the fault lines in any relationship, and it is not until we appreciate the fragility of life that we can truly value what we have.
When Alice Love surfaces from a beautiful dream to find she's been injured in a gym, she knows that something is very wrong – she hates exercise. Alice's first concern is her baby, she's pregnant with her first child, and she's desperate to see her husband, Nick, who she knows will be worried about her. But Alice isn't pregnant. And Nick isn't worried. Alice is the mother of three children and her hostile husband is in the process of divorcing her. Alice has lost ten years of her life. Alice's sister Elisabeth, who seems uncharacteristically cold, drives her home from the hospital. And home is totally unrecognisable, as is the rest of her life. Who is this Gina that everyone is carefully trying not to mention? Why does her mother look like she's wearing fancy dress? And what's all this talk about a giant lemon meringue pie? In the days that follow, small bubbles of the past rise to the surface, and Alice is forced to confront uncomfortable truths. It turns out forgetting might be the most memorable thing that's ever happened to her.
Disclaimer: There are affiliate links on this post. Should you choose to purchase an item, we will receive a small commission at no extra cost to you.