Don't Let Your Family or Your Hip Pocket Suffer This Allergy and HayFever Season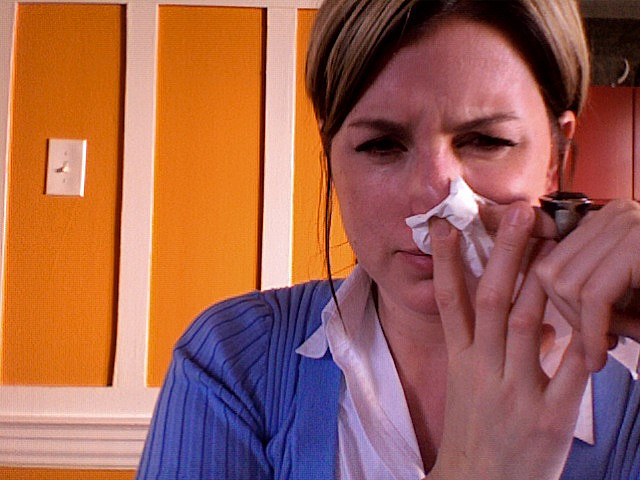 Don't Let Your Family or Your Hip Pocket Suffer This Allergy and Hay Fever Season
Sponsored post
The chances are that if you have taken a prescription to a Pharmacy, you have probably been asked if you'd like the generic product instead of the original brand.
For those of you who haven't, let me explain briefly. Generic medicine gives consumers the opportunity to pay less for an identical product.
So for example, let's take a look at allergy sufferers.
Exposure to substances such as pollen, pet fur, house dust and insect bites can cause some people to produce an excess of a chemical called histamine – which is why allergy medication is called antihistamine. It makes sense, right? Okay stay with me – this is the interesting part…
Q. Is Generic Medicine really the same as Brand Medicine?
A. Yes!
All medicines are made up of active ingredients (that is the drug that makes you better) and the inactive ingredients (these are the fillers and flavours). Generic medicine contains the exact same active ingredient as the brand medicine (which is verified by the Therapeutic Goods Administration (TGA) who require all generic substitutes to undergo a bioequivalency test.) This ensures that consumers have the option to purchase generic medicine that is of the same high quality, and providing the same effects as the more expensive brand alternatives.
But, chemists, for whatever reason, don't always offer the generic substitute for over the counter medication, so it is up to us to do our homework and ask for it! Really, why would anyone want to pay more for the same product?
Loratadine is the active ingredient in allergy medication. It is the antihistamine that relieves sneezing, a runny nose, itching/burning/watering eyes, and allergic skin reactions such as hives, and itchy rashes due to insect bites and chicken pox.
As a mum of three small children, and a mild hayfever sufferer myself, a good reliable antihistamine is one of the must-haves in my medicine cabinet.  Did you know that over 1 in 8 children between the ages of 6-7 get hayfever.  They get tired, run down and often have difficulty sleeping due to the hayfever symptoms (mine do).  So it is important to make them as confortable as possible from the hayfever.
Both my eldest child and myself tend to experience swelling at the site of mozzy bites also, so it is really important to me to have something on hand when it is needed.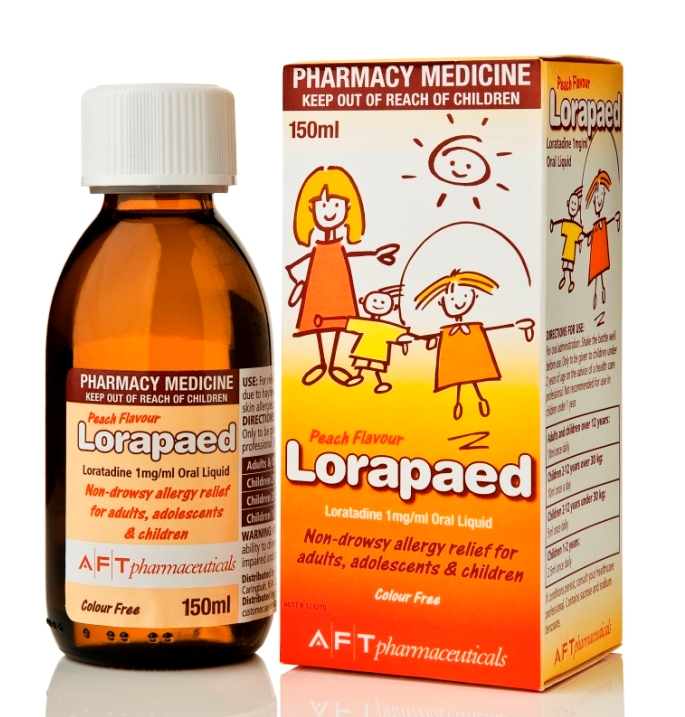 Lorapaed is a non-drowsy allergy medication that is suitable for my whole family, which of course saves me money on having to buy one medication for children and another for adults. (It can be used from 1 year and over). It comes in a liquid form, and has a pleasant peach flavour, so getting my children to take it when needed is never a problem – and one dose provides 24 hour relief, so a 150ml bottle is very economical.
Features and benefits of Lorapaed:
• Effective relief for symptoms of hayfever, urticaria and allergic rhinitis
• Non-drowsy antihistamine
• Sugar & Colour FREE
• One dose provides 24 hour relief
• Convenient economical 150ml bottle
• Suitable for children from 1 year old to adults alike particularly those who prefer a liquid formulation
• Lorapaed costs less than the originator brand, but doesn't compromise on quality or results.
With allergy season just around the corner, now is the time to prepare. Ask your chemist for Lorapaed by name and if they don't stock it, ask them to! (And keep the money you'll save in your own back pocket!)
Disclaimer: Always read the label & use strictly as directed. If symptoms persist see your healthcare professional.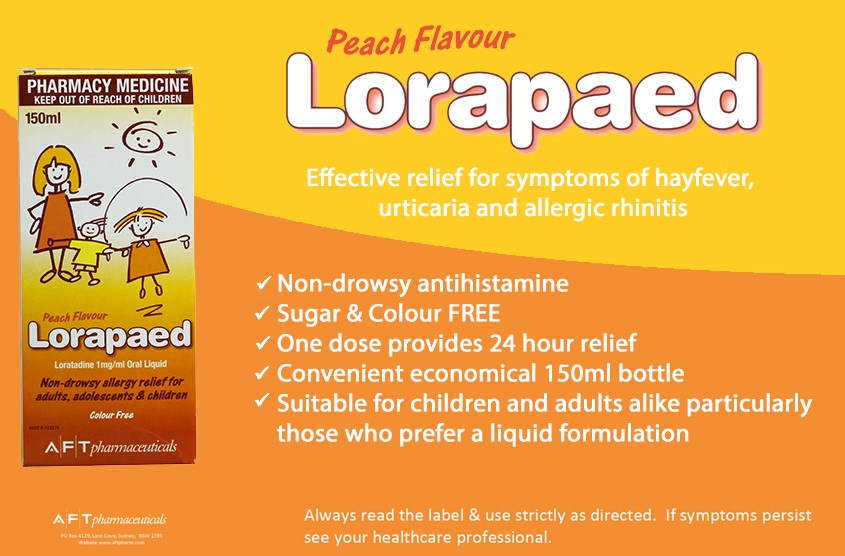 Top image credit: Flickr creative commons license