New Jané Epic Stroller Review PLUS Giveaway (RRP $849)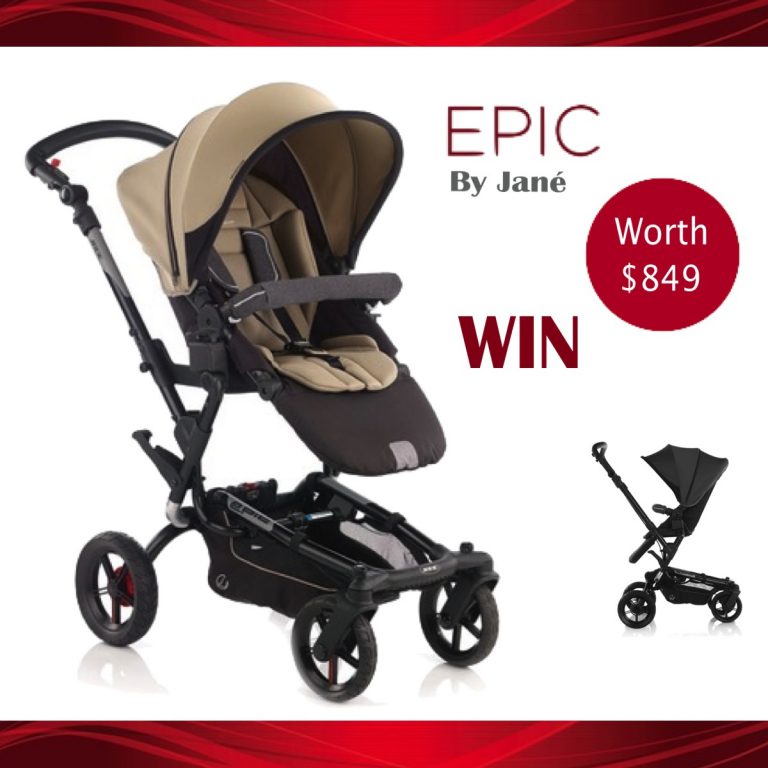 Jané is a company that has been around for a long time; in fact, it's more than twice my age. Jané has built a great reputation for leading the way in innovative designs and has achieved many firsts when it comes to stroller design. Therefore, it's no surprise that their current strollers offer some fantastic features.
I thoroughly enjoyed putting Jané's very popular 'Epic' stroller through its paces and so did my little one. It was a great opportunity for an exciting adventure to see if this stroller really lives up to everything that it promised.
What initially stands out about the Jané Epic is how amazing lightweight it is, due to it's tubular aluminum chassis. When I worked out how many times a day I get the stroller in and out of the car; for school runs, pre-schools runs, shops and outings with the littlest ones, I breathed a sigh of relief when I picked up the Jané Epic stroller. I love that not only was it very lightweight but it is also very compact when folded, meaning that lifting it was easy and would save much unnecessary strain on my back, so a win for Mum right from the start.
We took the Jané Epic on some great outings, down to the beach and on the sand, along our favorite costal footpath, to the park and even on a nature walk through some rough and uneven terrain bush land walks. The Independent rear wheel suspension and hard- wearing PU tires with shock absorbing properties really stood up to the test of the varying conditions maintaining a smooth and comfortable ride for my little one every time.
The Jané Epic's balanced front wheels ensured that the maneuverability was fantastic and for the most part of our adventures I was able to easily navigate the stroller one handedly, leaving my other hand free to hold the little hand of my other child. I always find that the biggest test for maneuverability is running the gauntlet of carefully stacked displays in the narrow isles of the shops, armed with a stroller, additional child on foot; and a basket full of shopping. I can safely say that the Jané Epic's ease of precision turning with one hand made this outing far more bearable.
I really like how well thought out the design of the Jané Epic is and how much attention to detail there is. The Inverted C shaped rear structure gives more room for my feet, which made a real difference in enabling me to establish a better posture when I walked. The adjustable height handle means that my 6ft 4inch tall husband and I can switch easily between who is pushing the stroller. The higher mounted child seat means that my little one is closer to me and it's easier for us to interact with each other while out and about, whilst the extra large hood provides additional shade for my little one. The functionality is also great with easy seat tilting, easy switch from forward to rear facing, easy folding without removing the seat and simple hand break – it's a breeze to use.
Jané Epic is an incredibly versatile stroller that can be used with the seat in the forward facing and rear facing positions, it can be used with a bassinette while your little one is small and can also be used in conjunction with a baby capsule.
Not only does the Jané Epic perform well under most conditions, from a trip to the shops to more challenging terrain, it also looks fab and has a carefully thoughtful, well-engineered design that has both little ones and parents in mind, which is a win all round.easy to pack-up, easy to manoeuver, easy to push, easy to adjust and a great range of options for the little one to sit in the optimum position to keep them extra comfy, so it's a win all round.
Written by Julie Williams
Thanks to Brandstyle we have a Brand New Jané Epic RRP: $849 to GIVE AWAY to one of our lucky readers. Enter below and good luck.
Jane Epic Stroller worth $849