Review: Chemical-Free Cleaning with the ENJO Floor Care System PLUS GIVEAWAY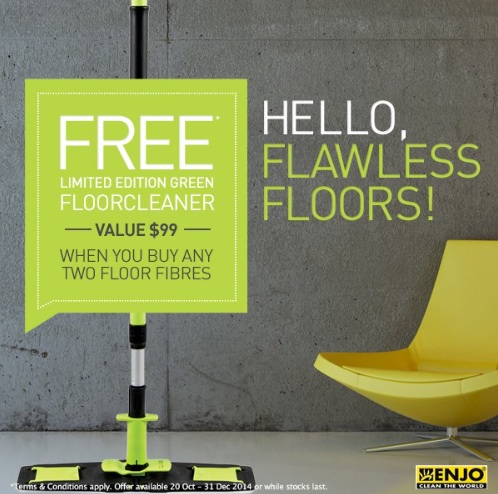 ENJO Floor Care System – Just Add Water!
If you had to pick one household job that drives you the most nuts, what would it be?
For me, keeping my floors cleans feels like a never-ending battle – frustrating and futile! Not ten minutes after standing back to admire the effect of my latest floor cleaning efforts, one of the children, pets or my husband will invariably always drop, spill, or traipse something on to the floor. It drives me crazy! But with Christmas on the horizon and the prospect of unexpected guests popping in to share the festive cheer, ignoring it for a day or two just isn't an option.
In my quest to find something to make this most loathsome job just a little easier, I have invested in a variety of brushes, brooms, hand mops, steam mops, (you get the picture), but my personal favourite by far is the ENJO floor care system.
This is all I need to keep my floors clean. Just add water! No bucket of water to slop around behind you. No awkward leads trailing behind you needing to be unplugged and plugged back in to another socket as you move around the house.
Just the cleaner and your choice of floor fibres, and you'll have your floor dazzling in just a few minutes.
That's right. I don't mean just dust free – I mean CLEAN!
If you aren't familiar with ENJO products, it can be a little difficult to get your head around initially – but this short video shows exactly why ENJO floor care system is such an amazing product.
Now that we've got the 'How clean can it really get' out of the way, I'll tell you what else I love about it!
I am a long-time sufferer of lower backache (which pregnancy and motherhood only seems to have exacerbated) so the ergonomic design of the ENJO floor system is of particular interest to me. I absolutely love that I can pop the chosen floor fibre onto the floor cleaner head without bending down. (It has clearly marked buttons that you can press down gently with your foot to open and close the head).
The ability to adjust the length of the pole is also a huge bonus for me, as it means no more awkward bending over. Adjusting the pole length is just as quick and simple as attaching the floor fibre. To extend you simple twist the pole left to loosen it, life the end so that it is line with your nose, and then twist the pole right to tighten it back up.
On these points alone the ENJO floor cleaner is already kicking goals over my steam mop.
To get the most out of your ENJO floor cleaner it is important to choose the correct floor fibre to suit your floor surface. For my matt tiles ENJO sent me the dust floor fibre (orange) and the matt floor fibre (blue).
The dust floor fibre is used dry, and I must say, far exceeded my expectations. Rather than pushing the dust and dirt and hair around (as I would usually do with the broom before washing the floor) the special ENJO fibres actually collect and hold onto the particles (which is particular good for allergy sufferers as it means you aren't kicking them up into the air.) The swivel action of the head of the cleaner makes running the fibre around the floor very quick and easy.
Next, I use the matt floor fibre with a little water.
It requires NO backbreaking scrubbing at all (in fact this may actually damage or shorten the life of your fibres), and gently gliding your cleaner over the floor works wonders. For more stubborn marks, I use the ENJO water spray bottle, and push down gently with my foot on the cleaner to give it a better rub. I also find that using the cleaner in a sweeping figure of eight motion (again, hoorah for the swivel head) really gives the tiles that lovely smudge-free finish.
For me, the ENJO floor cleaner has taken the dread out of keeping my floor clean by making more regular clean-ups easier and less time consuming. It's ergonomic design means that cleaning my floors is no longer a strenuous activity to be put off and if I can do all that without filling my home with chemicals, it's definitely a winner for me.
And in case you need any more convincing– the lack of chemicals means that there is absolutely no reason why the kids can't mop up their own mess and spillages! WIN-WIN!
Special Offer
ENJO are currently offering a FREE limited edition floorcleaner valued at $99 when you buy and two floor fibres!
The Giveaway
ENJO Australia are giving Mums Lounge readers the chance to win the ENJO floor care system for themselves.
To enter simply follow the instructions on the entry form below. Good luck.