Cool pregnancy apps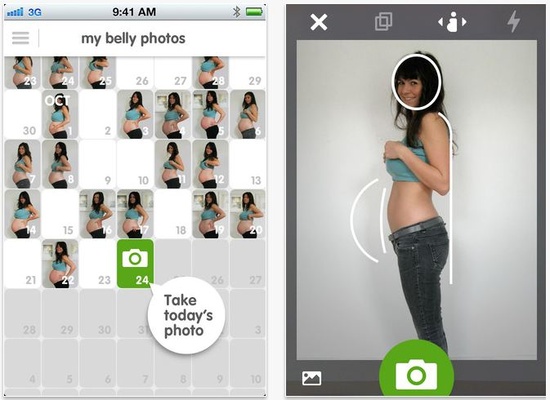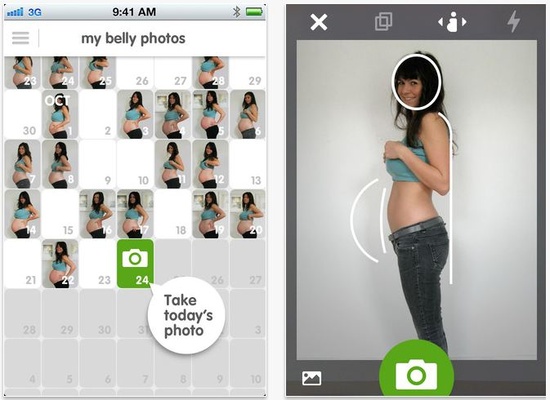 CineMama is a fun FREE tool created by March of Dimes to document your pregnancy and track your belly's growth. Celebrate your progress week after week while learning the benefits of a full-term pregnancy.
App Features:
Take photos of your growing belly using our simple belly grid and photo editor.
Turn your new and existing belly photos into a CineMama movie. The more photos you use, the better your movie!
Add titles and even a soundtrack to your sharable belly movie.
Watch your belly grow and organize your photos in the calendar, while staying informed with weekly tips.
Keep track of memories and milestones in the app diary and personalize them with photos and our mood meter.
View and share all your diary entries, belly photos and movie on your own CineMama webpage at marchofdimes.com/cinemama
There's a little life growing inside you – or inside your wife, as the case may be (unless there's been some kind of breakthrough, in which case, Wow). Anyway, we bet your little lima bean's got a lot to say. The trouble is, there hasn't been a way to get a message to you. Until now.
With wee mail™, you'll get a message from your unborn child every day of your pregnancy.
Read about the latest developments (like a digestive system, or fingers), find out what's up with all that kicking (see: Indian food), and get the inside scoop ("inside," see what we did there?).
Set your due date so wee mail messages correspond with your stage of pregnancy. Make wee mail messages gender-specific by identifying the sex of your baby. And share wee mail messages through facebook, twitter and, of course, e-mail.
Why wait, like, two years until your kid can actually speak when you can hear from the little nipper right now?
Brought to you by BabyCentre, the most trusted parenting resource, supporting 25 million mums worldwide comes the My Pregnancy Today app.
Simply enter your baby's due date and BabyCentre My Pregnancy Today turns your iPhone into an expert guide for your exact day of pregnancy. Feel more prepared for your baby's birth, and get the answers you need, whenever you need them.
My Pregnancy Today features:
✔ Your pregnancy day by day: Learn how your body's changing, what's ahead, and how to cope
✔ Fetal development images: See what your baby looks like each week
✔ Pregnancy checklist: Reminders to keep you on track with decisions, appointments, and more
✔ Award-winning videos: Watch your baby grow in the womb, and witness moms giving birth
✔ Due date calculator: Quickly find your due date
✔ Nutrition guide: Manage your weight gain with tips and recipes to help you eat well
✔ Track your progress: Countdown to your big day with weekly notifications
All information is approved by the BabyCentre Medical Advisory Board.
Download My Pregnancy Today free.
Eat Sleep is the simplest way to track your baby's eating, sleeping, and diaper habits. It's designed so you don't have to mess with timers, alarms, or typing. All the important stuff can be entered with a one-finger tap. View all eat/sleep/diaper events for each day, or view the combined history of any individual activity. As you continue using the app, you'll be able to view trends from day to day, week to week, or month to month.
Unlike some apps, Eat Sleep isn't overflowing with features you may not need. A real, working, first-time mom helped design the app so it's simple and easy to use. Eat Sleep tracks the information your baby's physician cares about most without being needlessly complicated.
Eat Sleep also includes a simple note-taking feature which allows you to track special events or routines. You can also now track multiple children.
FEATURES:
Eat – Track how long your baby was breastfed and which side. You can also track the amount of formula or pumped breast milk your baby consumed.
Sleep – Simple options and no calendars to mess with. Select when your baby finished sleeping and approximately how long—the app does the rest! Intuitive menus help jog your memory and let you enter blocks of time quickly.
Diaper – Keep tabs on diaper changes and whether diapers were wet, dirty or both. This is especially important for breastfeeding moms who need to know if their baby is eating enough!
Baby Tracker: Nursing keeps track of your nursing sessions with just a few clicks, allowing you to relax and focus on feeding your baby without worrying about lists and sheets of paper, stop-watches and safety pins in your bra, or extraneous ribbons and bracelets!
Baby Tracker: Nursing is a real time tool! With just a few clicks your nursing session is recorded: length of time and the side you nursed on (or both), always noting which side you nursed on last!
A detailed nursing history is always right in front of you and permanently stored in daily logs for future reference. And since it's on your iPhone or iPod touch you always have it with you! Another thing you don't have to remember…isn't being a mum the best!
Features
– Easy start/stop timer for the Left and Right nursing sides.
– Promotion of proper alternate side nursing with both visual cues (safety pins) and simple Begin (alternate) side functionality.
– Add new nursing sessions manually without using the timer or edit previous saved sessions.
– Record bottle feedings by type (Formula/Milk), volume (oz/mL), and amount.
– Nursing history log grouped by day.
– Summed full day nursing times and session counts, ready to show your doctor or lactation consultant.
– Last Feeding time is always visible so you know when the next feeding should be.
– Automatic Timer shutoff at "59:59" just in case you get busy and forget to press stop.
– Multiple baby support (up to 6), with names and easy switching (slide your finger left or right).
– Twin and triplet support to easily nurse from one baby to the next (Note: Nursing both children simultaneously is not supported).
– Change the background color to (Pink, Blue, Green, or Gray).
– Data export via email in (CSV) format for import into Excel or other spreadsheet programs.