Saving the Environment – One Knitted Tampon at a Time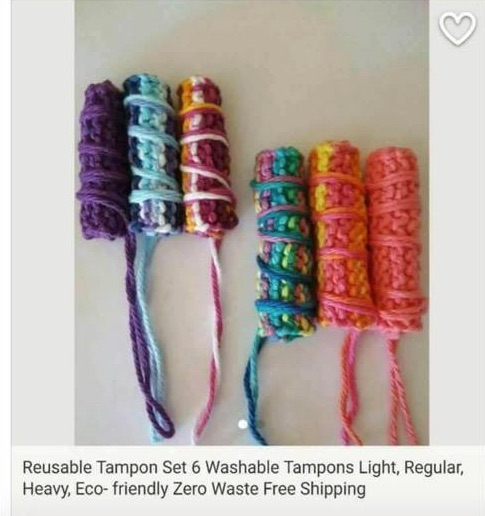 Saving the Environment – One Knitted Tampon at a Time
We all know we are supposed to be helping the environment in as many ways as possible; recycling plastic and glass, taking our own re-useable bags to the supermarket, and cutting back on packaging because our landfills are jamm-packed with crap that will take hundreds of years to break down.
And a lot of that landfill is taken up with disposable nappies, and women's sanitary items; pads and tampons. If the average woman goes through just 20 tampons a cycle in her menstruating life that is give or take ten thousand each of those decomposing in a tip somewhere. Per woman. Multiply that by the women in the house by the women in the street – nah, don't even want to go there. It's a LOT.
But women, being the resilient and resourceful creatures that we are, have been trying to come up with ways of dealing with it. One way is re-useable knitted tampons. No, I am not joking.
Available for sale on Etsy here. Or, if you are particularly crafty you can find a pattern to make your own creative and colourful designs at revlea.me.
Maybe give it to your aunties if you can't drive the knitting needles like me and they can whip some up watching tellie.
Blogger Elizabeth Broadbent wrote a very detailed account of what it was like to use them and to cut a long story short she said that although they were OK for light days, they did not have sufficient absorbency (even when she used two at a time) for heavier days. And there were other problems:
She said that they burned going in because they were so dry. Ouch.
That rinsing the blood out in the sink was tedious and time consuming and given she tested them out when she was staying with relatives, she was paranoid about someone walking in on her and being repulsed and she felt the need to hide them while they dried.
Lastly, they went a bit 'crunchy' after drying which made the burn going back in – even worse.
Further, Elizabeth wrote about their use while staying for the duration of her period – at a house. So there is the issue to consider of what do you do with the crime-scene resembling buggers when you are at work/restaurant/movies…….?
Her account was enough to make me cringe and decide this just isn't somewhere I want to go, although it is a step-up from what women used before Carefree and Tampax hit the market, when we resorted to using; wood, wool, hay, grass, sand (?), animal pelts and even grass to absorb the flow.
One thing I have been considering for a while is trying some period undies which were tested and written about in great detail here last year. They look comfortable and discreet, are odour-absorbing AND they wick up any spills and leakage no matter what method you employ. They are reported to also be excellent for any sneeze or cough related LBL.
What about you guys? Would you crochet a box of these and carry them in your handbag?