DIY Beaded Bubble Blower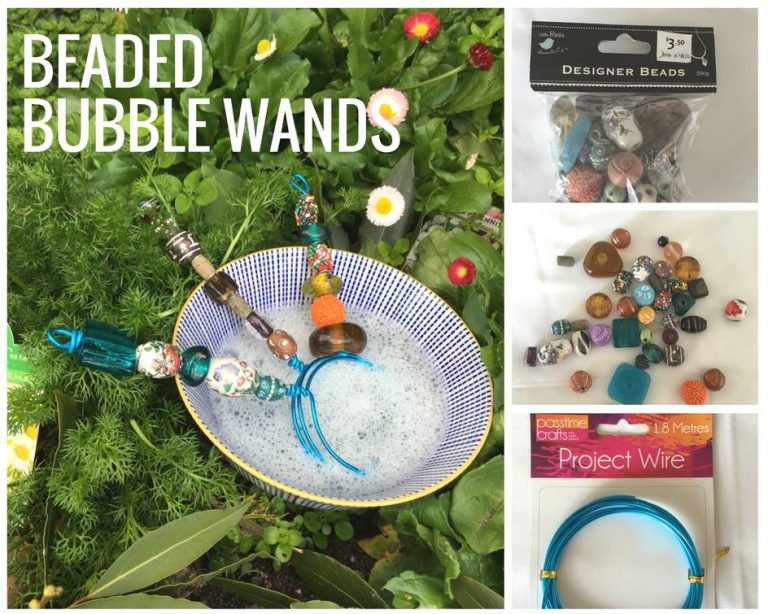 DIY Beaded Bubble Blower
With spring on the way it's so lovely to get out in the garden and have fun with your family.
Nothing says spring and sunshine like blowing bubbles!
I went into Cheap as Chips the other day and found these beautiful beads and couldn't resist making some beautiful bubble blowers with them, it makes blowing bubbles all that more magical!
What you need:
Wire: I found this lovely coloured wire and its lovely and easy to work with.
Wire clippers or something to cut the wire.
Beads: any pretty beads will do!
Instructions:
Wrap some of your wire around a glass to get a nice round shape and twist the wire to hold the shape.
Make sure that he first bead that you put on is nice and wide at the mouth or opening so that you can tuck in the tail of the wire so that it can't scratch your fingers.
Keep adding beads till you get the handle of the bubble blower as long as you like it. Cut off the end and twist to keep the beads all together. You might want to make a loop for a decorative effect.
Make up a nice bubble mix and enjoy the sunshine blowing bubbles!
If you don't have any bubble mix you can make some with washing up detergent and glycerine.  I prefer the commercial bubble mix better as it blows good strong bubbles, is cheap and has something in it that deters children from drinking it.