A Guide to Choosing the Perfect Maternity and Breastfeeding Bras for Your Changing Body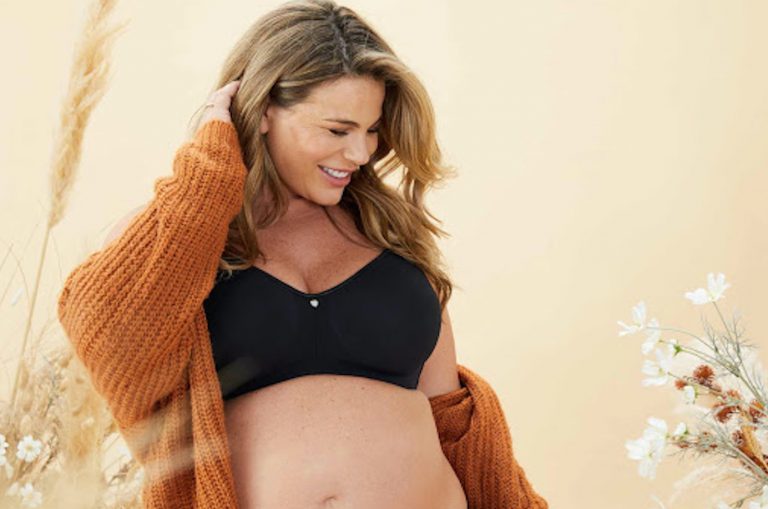 A Guide to Choosing the Perfect Maternity and Breastfeeding Bras for Your Changing Body
Sponsored post
From the moment your baby is conceived, your body starts to undergo a myriad of changes,  and continues to do so well into the post-partum period. One of the earliest symptoms many women experience occurs in their breasts, with increased sensitivity, tenderness and swelling or growth being a common experience. This is because as your pregnancy progresses and your hormones fluctuate, your breasts begin to ready themselves to perform their role after the birth, of feeding your baby!
Whilst most pregnancy books guide you through the fascinating changes that happen in your uterus as your baby grows, many of us overlook the amazing things our breasts are also doing at this time!
During the first trimester the internal structure of your breasts begin to change as milk ducts form and increase in complexity. At the same time, lactocytes (milk-producing cells) start to develop within your breast, and the blood-flow to them doubles. This is the reason why some women can see veins more easily on their breasts during pregnancy.
By the time you reach the second trimester your breasts are not only making milk (which gets reabsorbed into your body), they also start getting your nipples ready for breastfeeding the new arrival. The areolae (area around your nipple) may grow larger and darken in colour, and the bumps on them (a.k.a. Montgomery's Tubercule's) begin to raise and become more pronounced – which is thought to make it easier for your baby to find them. Seriously, who knew breasts were so amazing, right?
With all the changes happening to your breasts both during and after pregnancy, it's important that you choose the right kind of bra that is both comfortable and supportive of their changing size, shape and function. But, as you are about to discover, investing in maternity bras does not mean you've been banished to the f'ugly bra section of the internet. If you know where to look, it's absolutely possible to maintain some glamour during your pregnancy and postpartum!
To help you in your quest to find the perfect maternity and breastfeeding bras we've enlisted the help of expert Tracey Montford, founder of Cake Maternity – a Sydney-based maternity clothing brand, which specialises in nursing bras and other maternity products.
"Cake Maternity was born out of my own personal frustrations during my first pregnancy back in 2007," Tracey explains. "As I searched for comfortable, stylish maternity and nursing wear it appeared hitting all three was the trifecta that didn't exist. This ultimately became my driving force to craft what I couldn't find: beautiful, functional, comfortable and sustainable pieces made to support mothers and Mother Nature. To this day we specialise in maternity and nursing bras, however, our offering has since grown to include clothing, sleepwear and swimwear – with each piece designed to grow with woman as they embark on this new and exciting chapter in their lives."
When Should You Measure for Your Maternity or Nursing Bra?
With so many changes happening with your breasts it can be confusing knowing when to measure them.
"During the first few months of pregnancy, we recommend sticking to seamless styles which cover several sizes in one," explains Tracey. "This way your boobs are free to do all of that fun early-pregnancy expansion, without any restrictions. Generally, your pre-pregnancy size will serve you well for these first few months, as long as you're wearing styles with lots of stretch."
"By the time your second and third trimesters roll around, you're free to introduce a flexi-wire bra to the mix."
"Come your 8th month of pregnancy, you may want to consider measuring yourself for some nursing bras to use once bub arrives. This is because your cup capacity is a similar size to what it will be around 6 weeks postpartum when your milk supply has regulated! Just keep in mind your band size is likely to change as your ribcage contracts postpartum."
How to Choose the Correct Size Bra
Studies suggest that 80% of women wear the wrong bra size, with 70% of us donning bras that are too small. Whilst this is far from ideal under ordinary circumstances and can lead to neck and back pain, it is even more important to get your bra size right during pregnancy and nursing.
This easy-to-follow guide will help you to calculate your bra size easily. All you need is a good fitting bra and a measuring tape. Calculate your bra size easily with a good fitting bra and an inch measuring tape.
Choosing the Right Bra for Your Shape, Size and Stage
This handy guide will help you to choose the right bra for your shape, size and stage.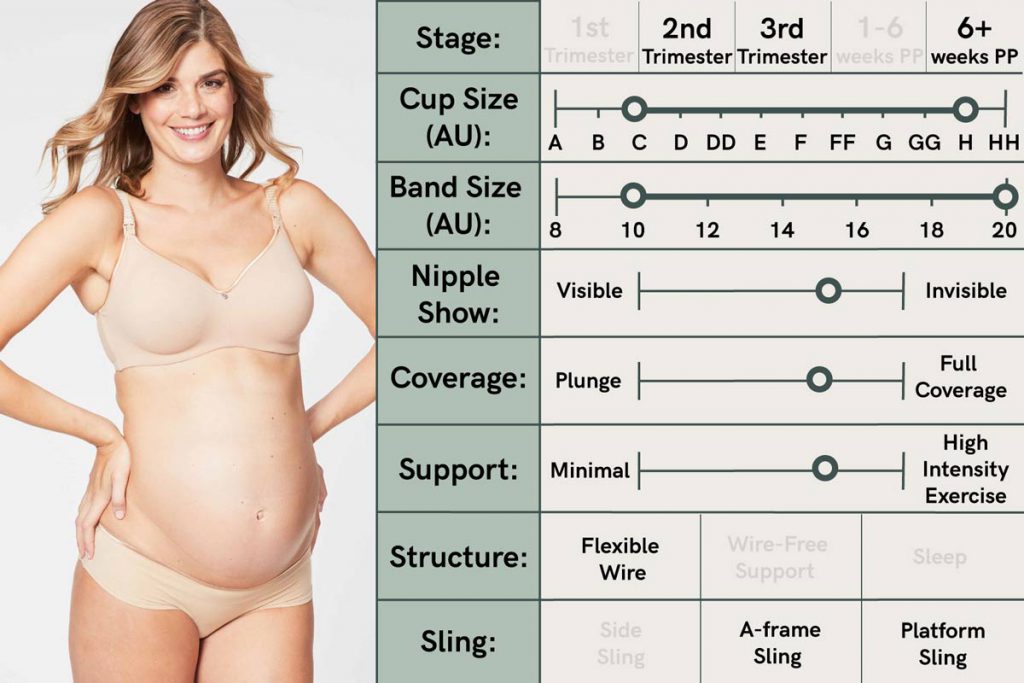 This is the Cake Maternity go-to tshirt bra. It features a concealed wire and is velvety soft. Perfect for everyday wear and all day comfort.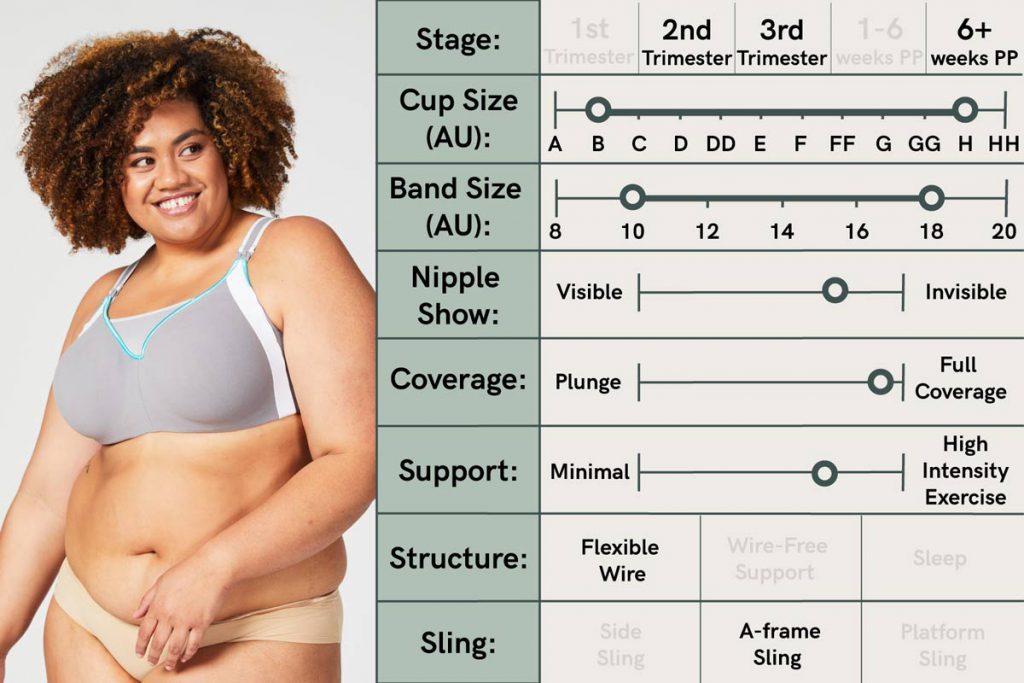 This bra is the answer to sports and high impact activities. Made from spacer fabric and with all the bells and whistles to make sure your breasts stay put.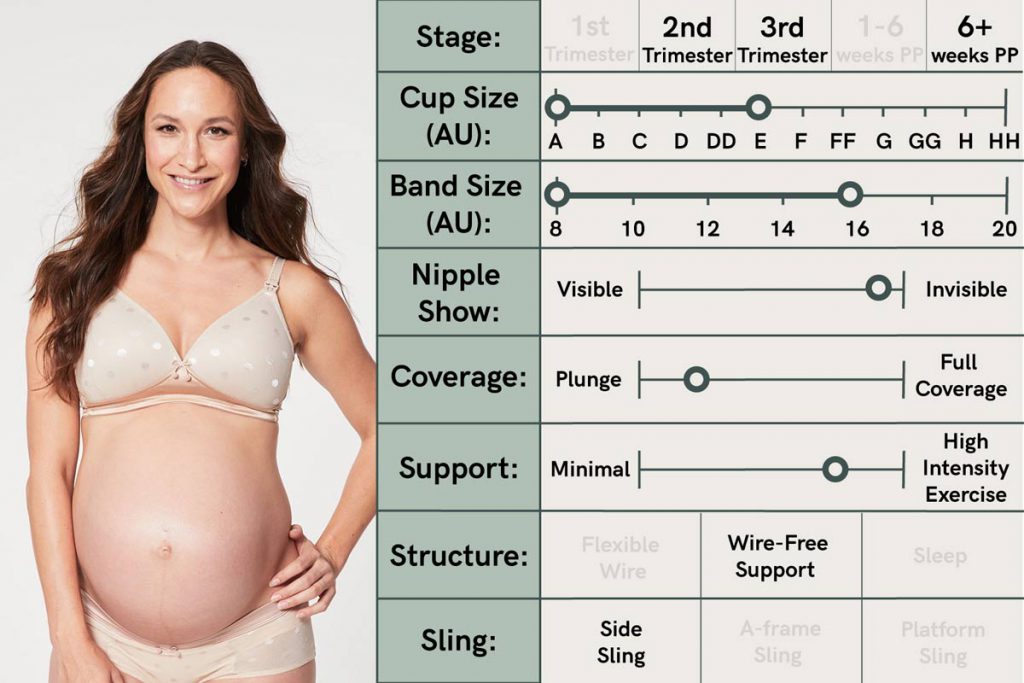 This sweet little plunge nursing bra is made from stretch satin and is all about the moulded foam cups, plunge neckline and support.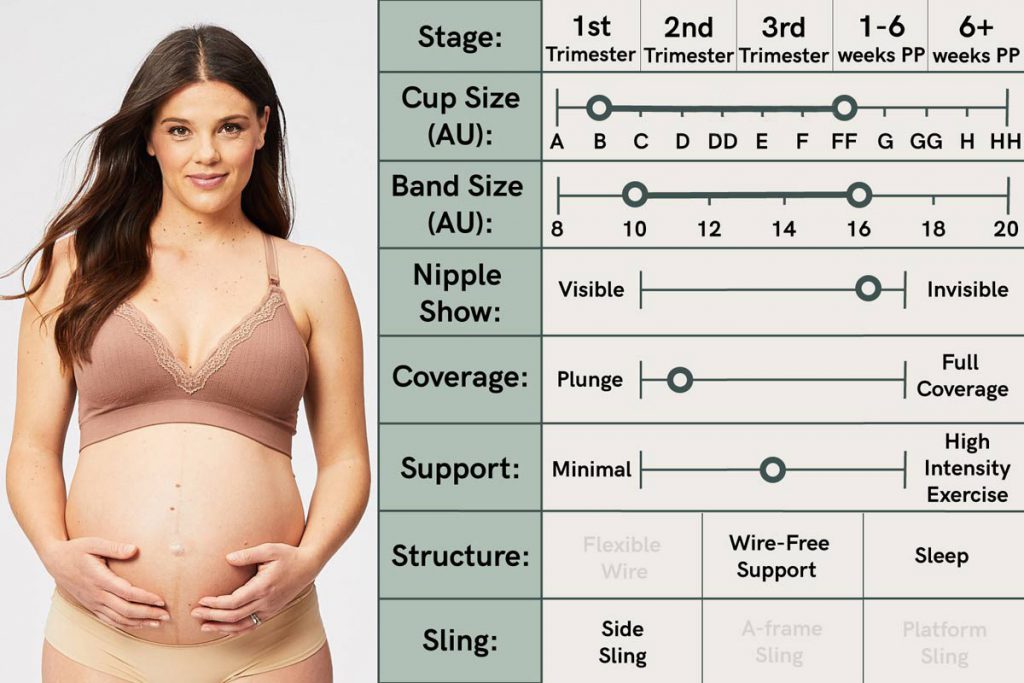 The ultra-comfy and soft bamboo viscose wire free plunge bra that is perfect for sleep, t-shirts and just general life.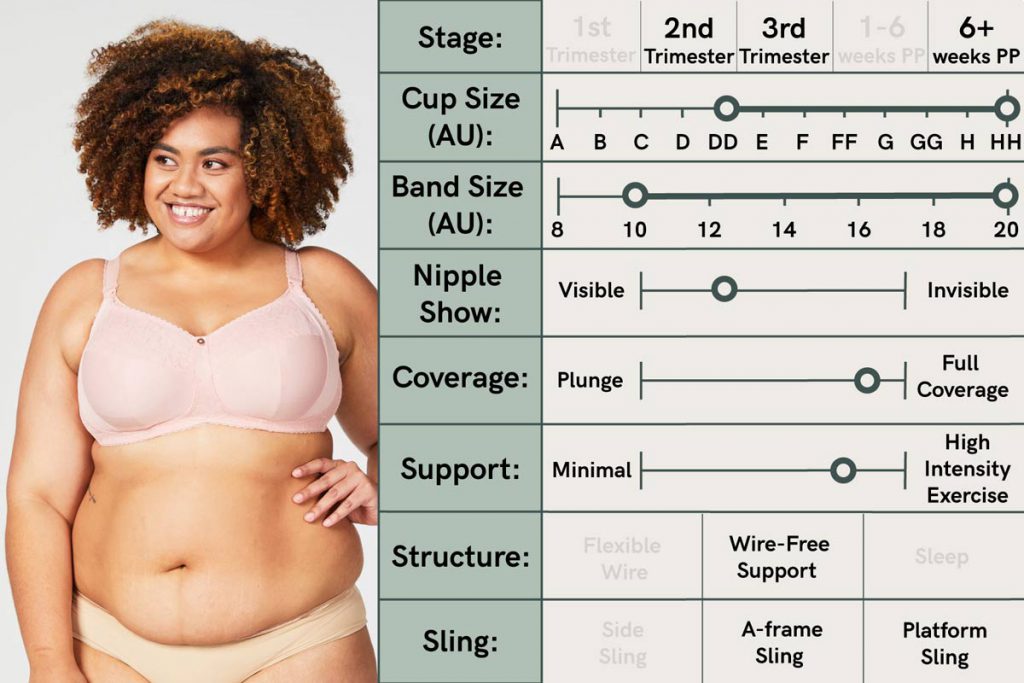 Tea is a wire free and super supportive bra for the fuller busted mama. Don't be fooled by its lack of wire, as this is a gravity defying wonder.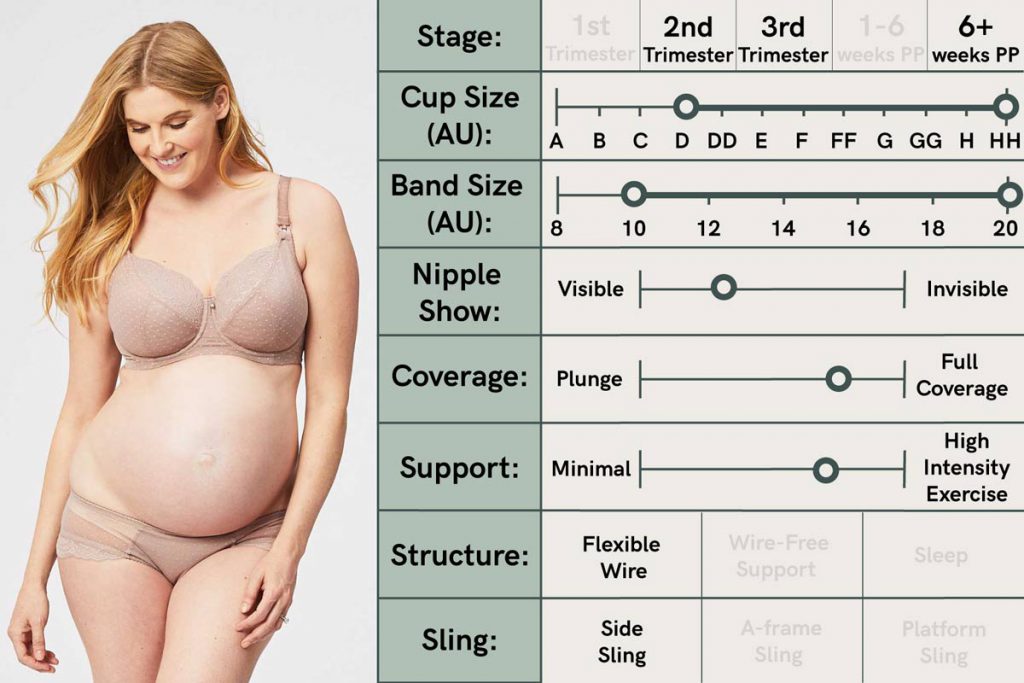 This flexi-wire nursing bra makes you feel like a treat whenever you put it on. You won't miss your pre-pregnancy bras with the comfort, support and sexiness of TimTams.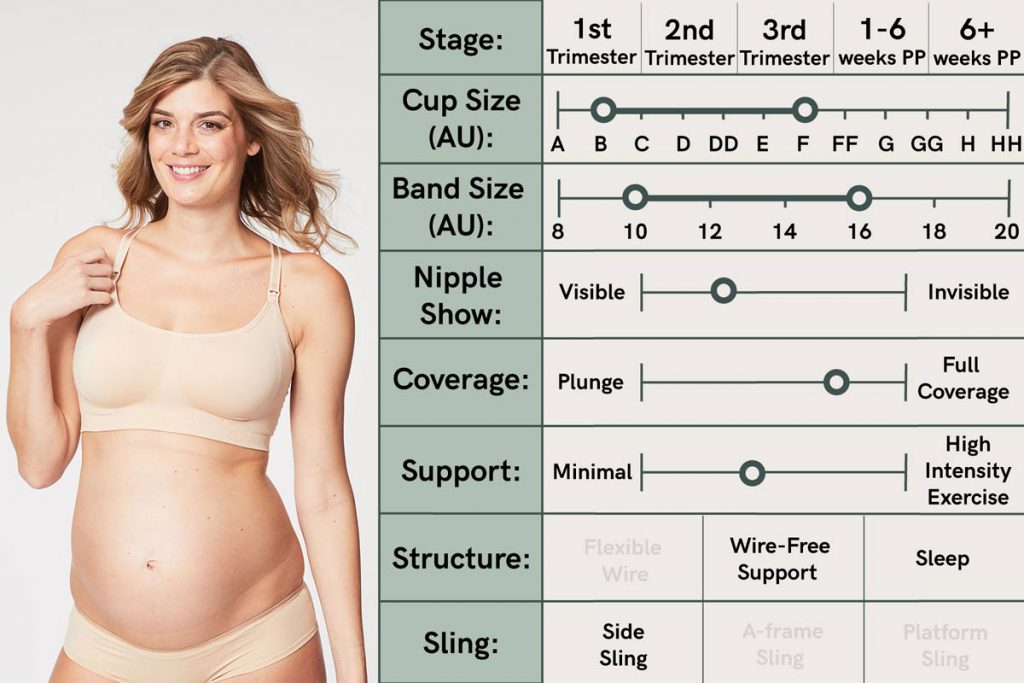 Seamlessly knitted from a dense yet super soft yarn, this nursing bra provides comfort, support and functionality without restriction.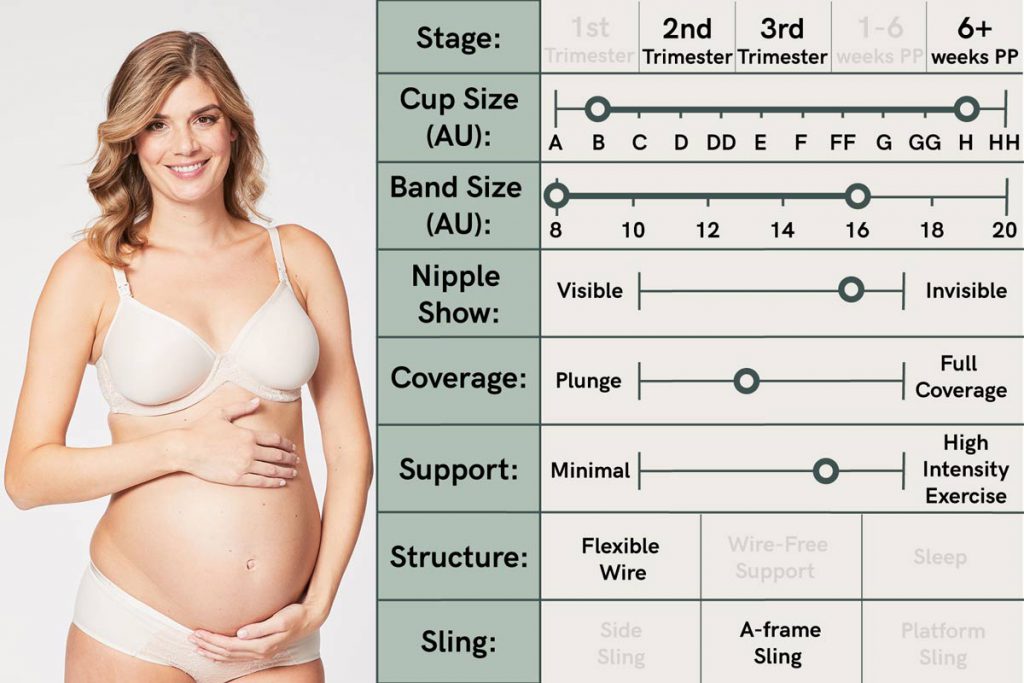 A contour flexi-wire nursing bra that oozes femininity, sophistication and functionality.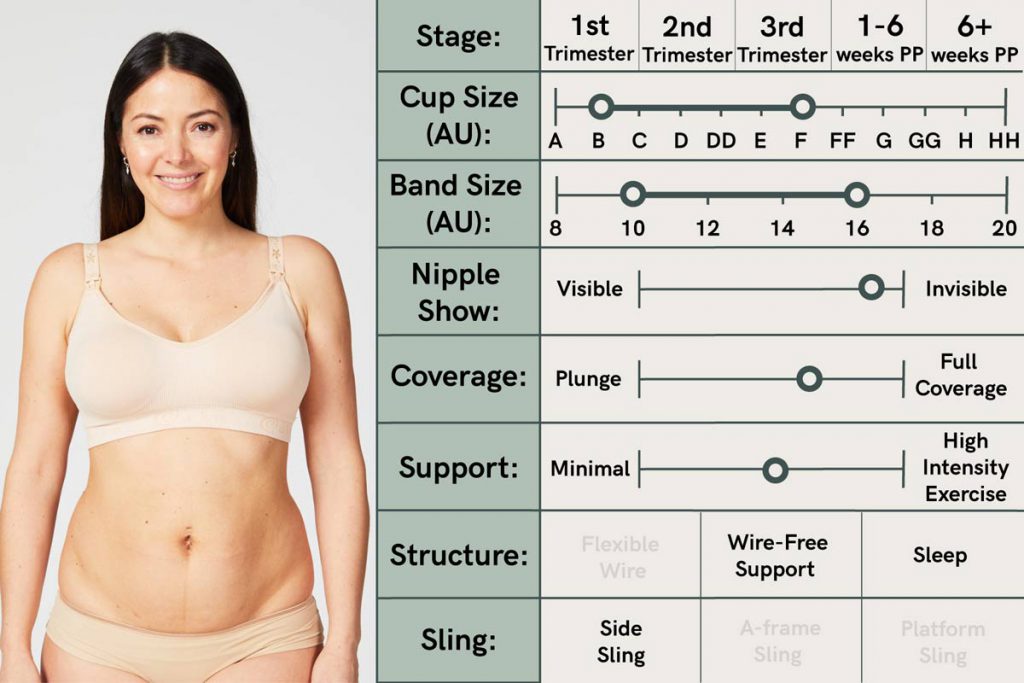 Super soft, supportive and wire-free. With its double layered knit panels, this seamless nursing bra is designed to lift, shape and support while making nursing a breeze. It also features removable foam contour cups for shape or modesty.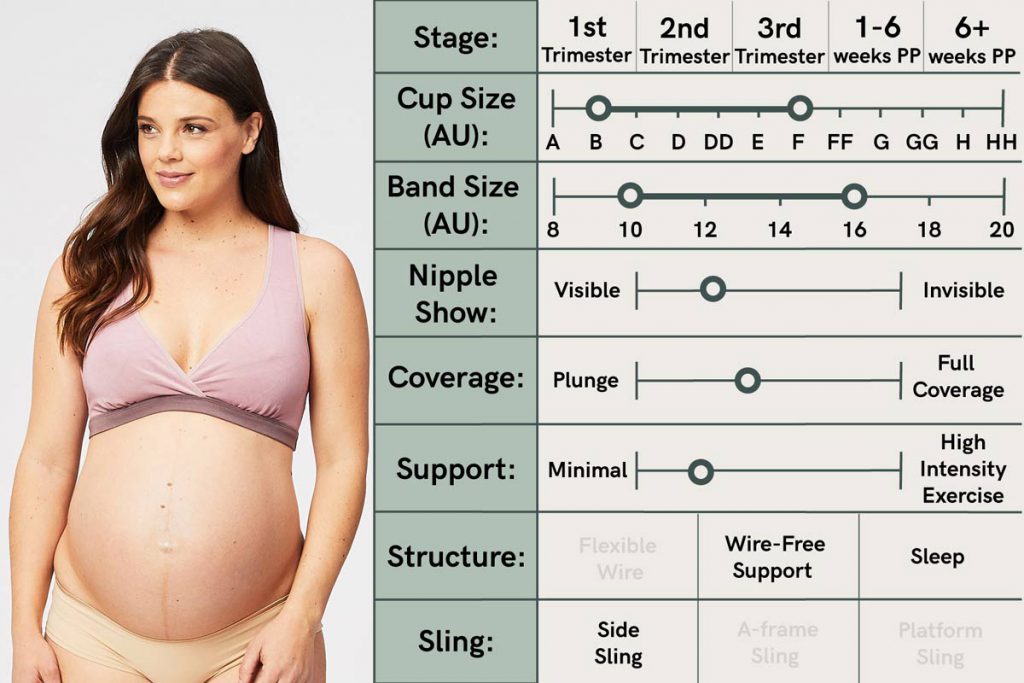 Milk is made from a super soft, sustainable bamboo to keep you dry and comfortable all night long. Our clever cross over cups can easily be pulled aside for feeding when barely awake or half-asleep. Concealed wicking breast pad pockets are on the inside to ensure you and your bed stay dry all night long.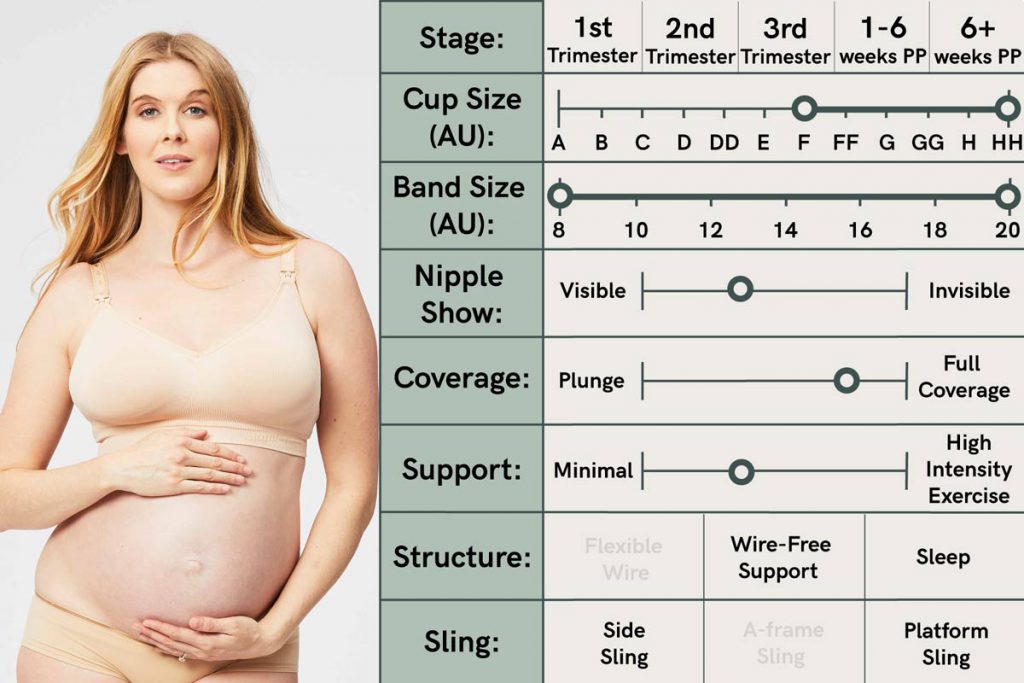 A seamless wonder for the fuller busted mamas out there. It offers incredible wireless support, is comfortable and super clever. It feels like a second skin. It's soft and unlike other bralettes for the fuller busted mamas, will offer lift and separation. It's a super technical bra.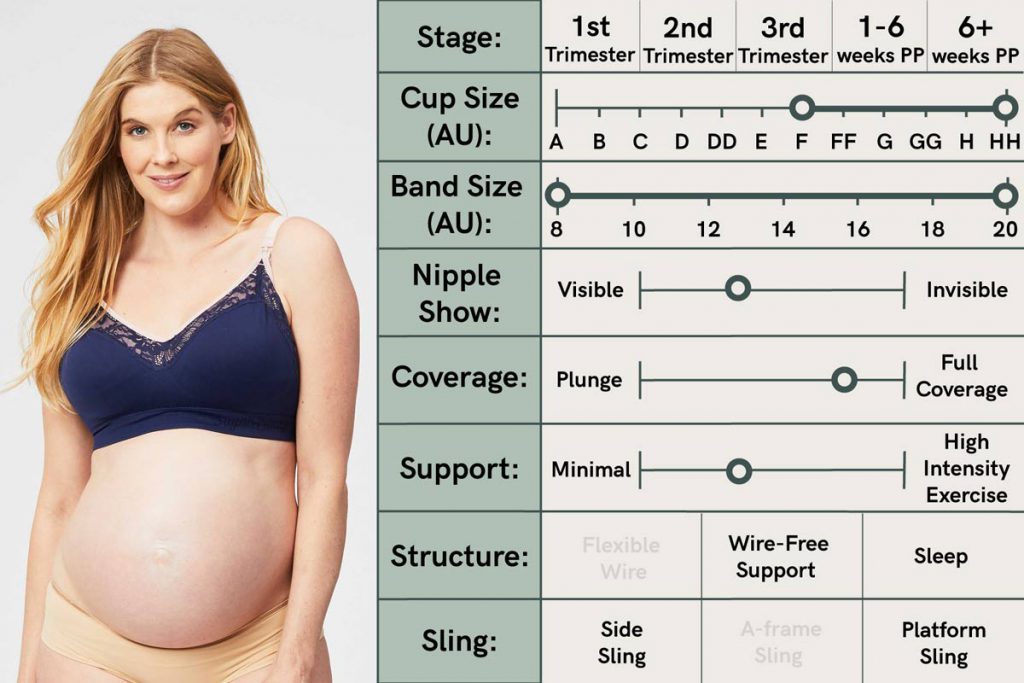 This one has all the features and fit of Basic but is a little bit more lacey if you're feeling fancy.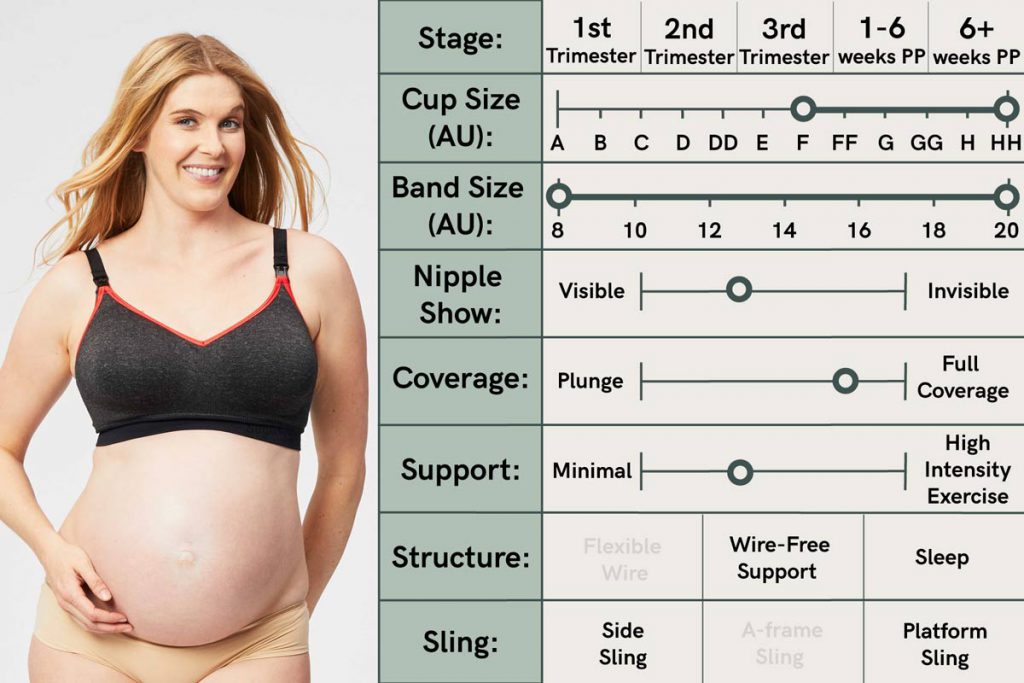 The same fit and function of Basic but with a heathered fabric and racy trims to boot.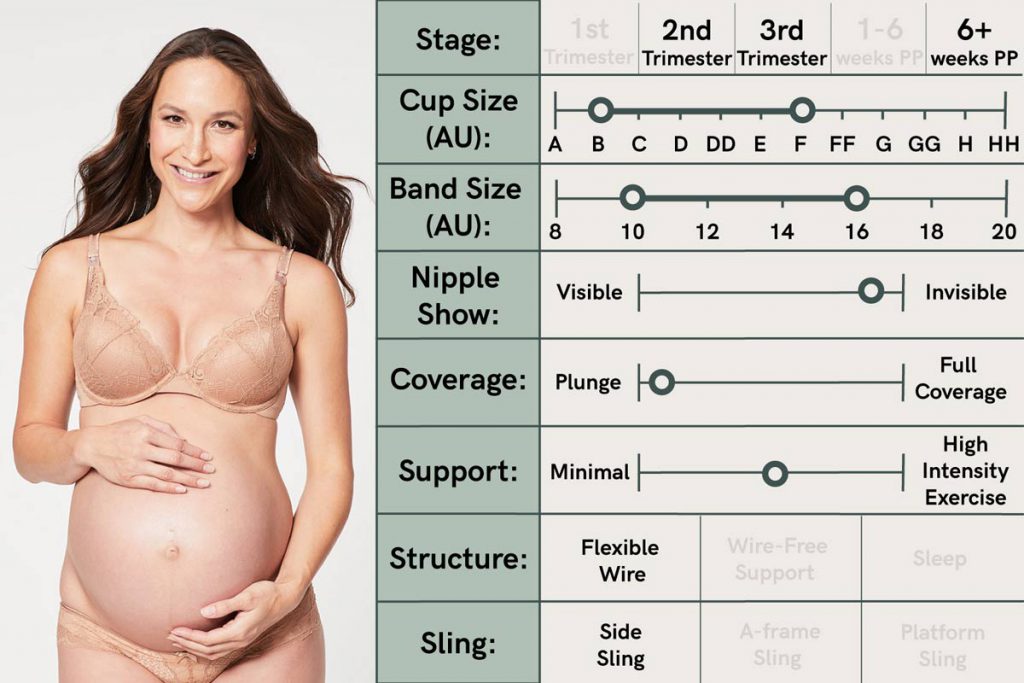 For the ultimate treat, you can't beat Truffles. Stunning, French-inspired deco lace and a deep plunge cut combine to make the sexiest lace nursing bra you'll ever indulge in.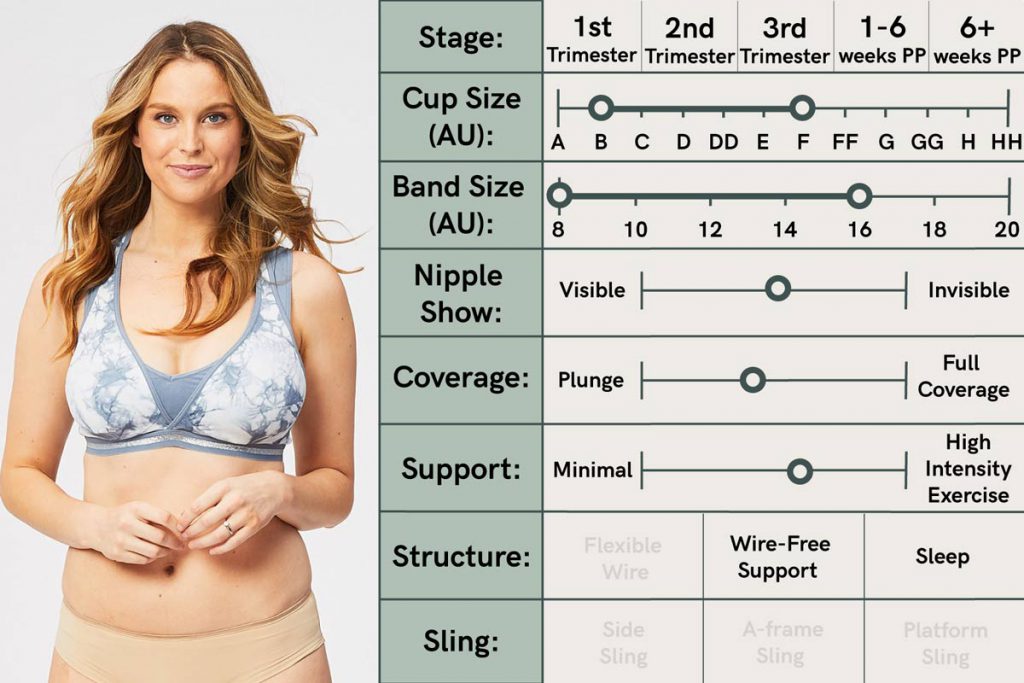 The hands-free pumping bra for the on-the-go, multi-tasking nursing mama who likes to stay active and comfortable all day long.
Cake Maternity offer over 70 sizes – so whatever your style, favourite colour or stage, they'll have you covered!