Jelly Slice Recipe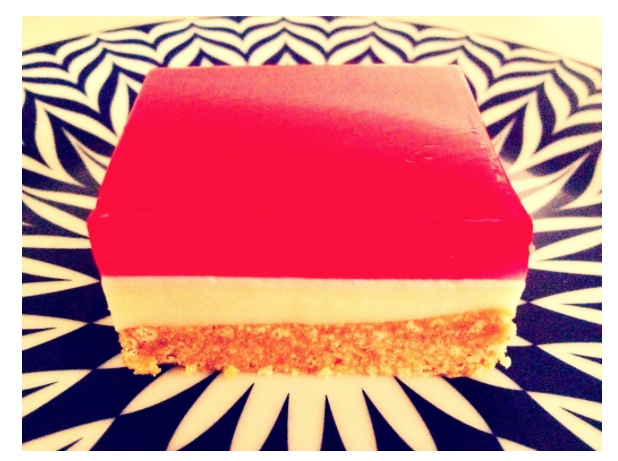 I love jelly slice and yet it's not something I usually make. In fact this was my first ever attempt! The reason why I've never made it before is my ongoing battle with gelatine… a battle that until this round, I have not won! To be honest, cooking with gelatine scares me. I don't know how many times I've gone to make a cheesecake or something similar, only to have my gelatine get those pesky little lumps in it that need to be strained. So frustrating!
Anyway, I finally got the courage up to try and make a jelly slice and boy am I glad I did. I loved it! I would even say it was better than my favourite bakery one. And by some stroke of sheer luck, my gelatine didn't go lumpy at all. Amazing.
And here it is…. my non-lumpy jelly slice!!!
PS – If anyone out there has any foolproof ways to cook with gelatine then please let me know! I might have won this round with the gelatine, but somehow I don't think the battle is totally over yet!! I can definitely see more gelatine disasters coming up in the future!!
Jelly Slice Recipe
Ingredients
Base:
• 1 packet 250 gm Marie / 9 oz Marias biscuits
• 175g / 6 oz melted butter (add a little more if your mixture feels too crumbly)
• Filling:
• 1 X 400g / 14 oz  tin condensed milk
• Juice of two lemons
• 3 level tsp gelatine
• ¼ cup boiling water
• Jelly Topping:
• 1 X 85g / 3 oz packet jelly crystals
• Water
Instructions
Line base and sides of a slice or lamington pan with non-stick baking paper allowing a 2cm overhang.
Make jelly according to packet instructions and set aside on the bench to cool (not in the fridge as you don't want it to set).
Place biscuits in a food processor and crush until they resemble fine crumbs.
Place biscuit crumbs in a bowl.
Melt butter in the microwave or stovetop and add to biscuit crumbs.
Mix until well combined (add a small amount of extra melted butter if the mixture is too dry).
Press biscuit mixture firmly into the slice tin and place into fridge.
Place boiling water into a jug and stir in gelatine until dissolved (and there is no lumps!!).
In another bowl add condensed milk, lemon juice and dissolved gelatine mixture.
Mix until well combined.
Pour mixture over the biscuit base and place back into the fridge until set.
Pour the jelly liquid over the set base and place into the fridge again.
Chill until totally set.
Cut into squares using a very sharp knife.
Eat!!!! 🙂
https://mumslounge.com.au/lifestyle/food/jelly-slice-recipe/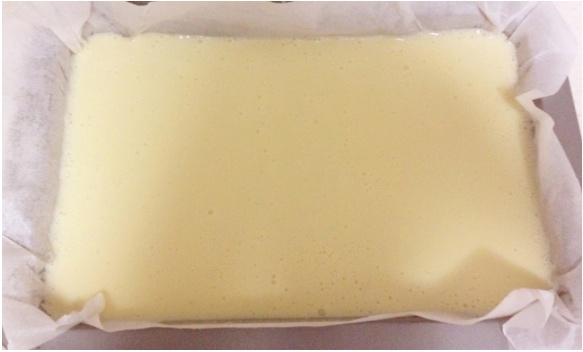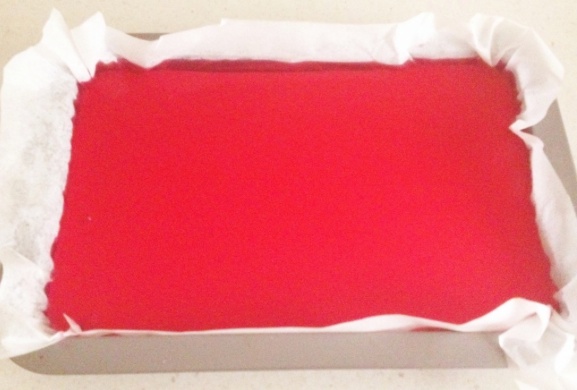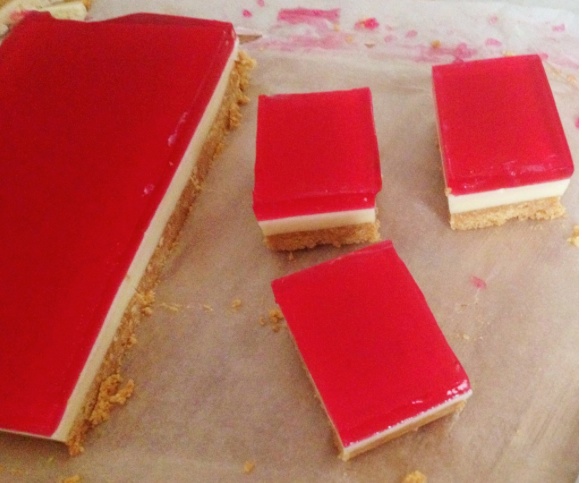 Hope you find this recipe just as good as we have.  Share it with others if you like it.
 More Dessert and Slice Recipes
For more recipes like this, click here to go to other Dessert Recipes in MumsLounge.com.au.
 About the Author
Hi there! My name is Lucy and I'm a primary school teacher, a wannabe baker, a wife, a blogger, a pilates lover, a chocolate addict, a super-organiser and an over-analyser. When I'm not teaching, you will usually find me whipping up something very naughty in the kitchen…. chocolate and caramel are two of my best friends! Come and join me over on my blog Bake Play Smile or on Facebook for some more sugarific baking adventures! xxx