Spiced Party Mix Recipe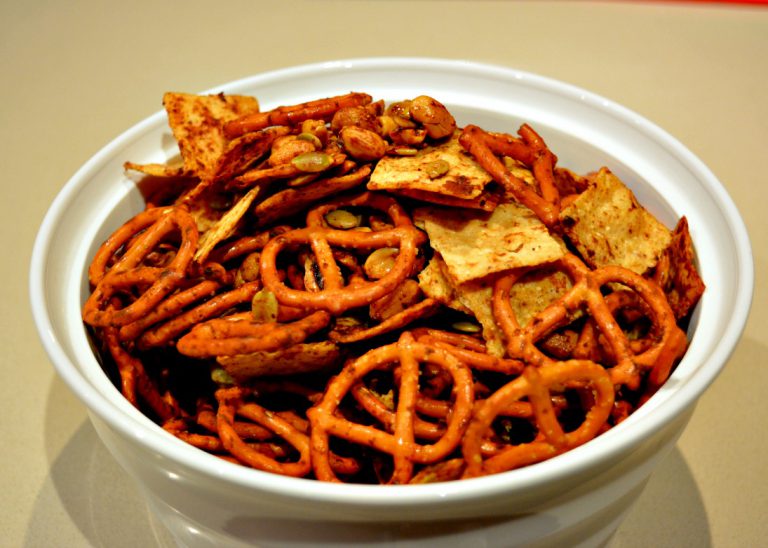 Spiced Party Mix Recipe
This Spiced Party Mix is super crunchy, packed with flavour and really, really hard to resist eating handful after handful. The good thing is that it's not full of fake, orange cheese powder, MSG and questionable "flavourings". You know exactly what you're getting AND there is nothing at all like this available to buy so you will impress your guests by placing a big bowl of this on the table. That is…if you don't eat it all before they get there.
I made this a few months ago just for us, just because it looked so delicious and it lasted for days in a sealed plastic container. I couldn't tell you exactly how long it would last because I kept returning to the pantry for another handful until it was all gone…
Feel free to change up any of the ingredients. Some roasted green peas or crunchy Chinese noodles would work just as well!
Ingredients
4 cups broken plain tortilla chips (I used Mission)
3 cups small pretzels
2 cups roasted unsalted peanuts
1 cup raw shelled pumpkin seeds (pepitas)
1/3 cup unsalted butter
2 tsps minced garlic
2 tbsp worcestershire sauce
1 tbsp Dijon mustard
1/2 tsp mustard powder
1/2 tsp sea salt flakes
1/2 tsp paprika
1/4 tsp ground black pepper
1/4 tsp chilli powder
Instructions
Pre-heat oven to 120C/250F. Line two large baking trays with non-stick baking paper.
Put the tortilla chips, pretzels, unsalted peanuts and pumpkin seeds in a large bowl and toss to combine.
Melt the butter and add the garlic, worcestershire, dijon, mustard powder, salt, paprika, pepper and chilli powder together and mix together. Pour over the pretzel/nut mix and combine thoroughly. Spread the mixture out over the two baking trays into single layers. Bake for 1 hour, swapping traps around every 15 minutes and stirring ingredients. Allow to cool to room temperature. Store in an airtight container at room temperature for up to a week.
https://mumslounge.com.au/lifestyle/food/spiced-party-mix-recipe/
Carolyn started her blog Pinkpostitnote.com just over a year ago as a way to deal with her obsession of trying new recipes from the copious collection of cookbooks that she owns (and continues to buy). She is particularly fond of "man" food, both cooking it and eating it. She will happily elbow people out of the road at the sight, sound and smell of a pulled pork burger. When she's not lying awake at 5am wondering if she should buy chooks and a cow to deal with the constant need for eggs and butter, she's dealing with all the paperwork associated with owning a bunch of tip trucks and her favorite time of the day is wine five o-clock.