The Best Ever Thermomix Rocky Road Fudge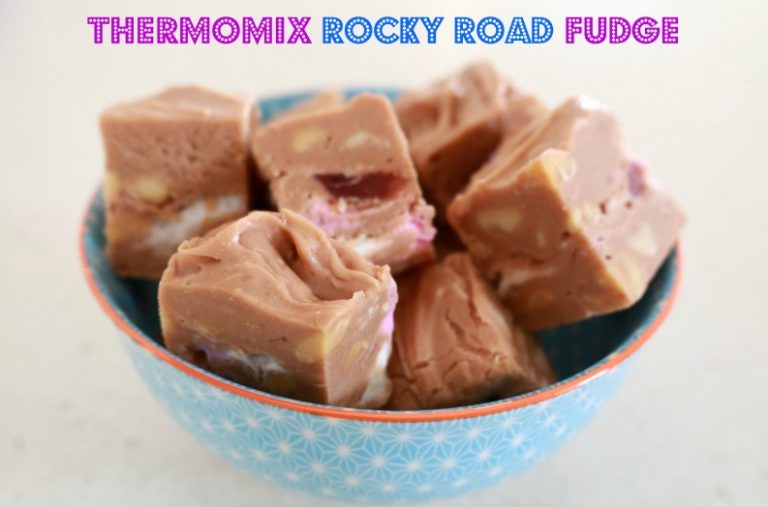 The Best Ever Thermomix Rocky Road Fudge
One of the hardest decisions to make is whether or not to bake a batch of rocky road or fudge. Seriously. Hard. Decision.
So rather than umm and ahh over such a dilemma, I decided that it was better to just combine the two and make Rocky Road Fudge… in the Thermomix of course! Can you tell I'm a total chocoholic?
To make this delightful little treat I used my favourite chocolate fudge recipe and at the last minute added in chopped raspberry lollies, peanuts and mini marshmallows. You could use any type of add-ins you like, including Turkish Delight, coconut, Pineapple Lumps, Clinkers…. Really anything. Gosh, so many awesome things in one delicious bite!
A word of warning – you've got to work pretty quick when mixing in the peanuts, marshmallows and raspberries, otherwise the fudge will begin to set and will be hard to spread into the tin. Now is not the time to make a cup of tea!!
The Best Ever Thermomix Rocky Road Fudge
Ingredients
• 200 g milk chocolate melts
• 200 g raw sugar
• 1 can condensed milk
• 125 g butter
• 25 g liquid glucose
• 1 cup roasted peanuts
• 1 and 1/2 cups mini marshmallows
• ¾ cup raspberry lollies, halved
Instructions
Line a 25cm X 15cm slice tin with baking paper.
Grate the milk chocolate melts on speed 9 for 10 seconds.
Set aside in a separate bowl.
Mill the raw sugar on speed 9 for 10 seconds.
Add the condensed milk, butter and liquid glucose to the TM bowl.
Cook on Speed 3, 100 degrees for 8 minutes.
Cook on Speed 3, Varoma temperature for 20 minutes.
Add the milled chocolate and mix on Speed 3 for 20 seconds.
Add the peanuts, raspberry lollies and mix for 10 seconds.
Stir through the marshmallows (working quickly as the fudge will start to set).
Pour into prepared tray and place into fridge to set completely.
https://mumslounge.com.au/lifestyle/food/thermomix-recipes/best-ever-thermomix-rocky-road-fudge/
The hardest thing about making this Rocky Road Fudge is having to leave it in the fridge to set… that takes a lot of willpower my friends.
The fudge will last for up to a week in an airtight container in the fridge. It also makes a perfect gift for family or friends – if you can bear to give it away that is!
What are your favourite 'add-ins' to Rocky Road?