10 Ways to Store or Upcycle Stuffed Animals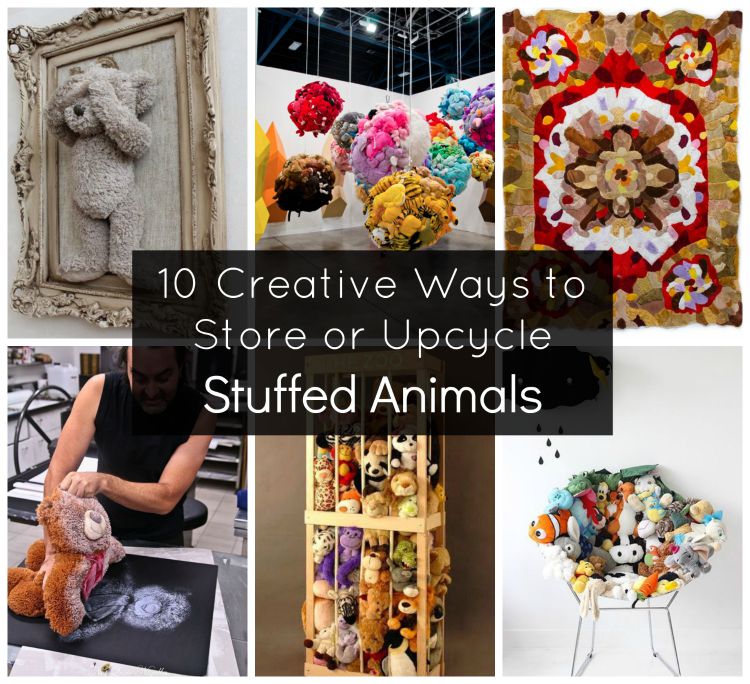 Our house is overflowing with stuffed animals. No matter how many we cull from the collection, my girls have a lot of favourites that they can't part from. They are young and I'm reluctant to add more to the collection or take any away so I've been looking at ways to store or upcycle stuffed animals when they will grow out of playing with them.
Firstly, some ways to store a large stuffed animal collection. A bean bag is a great way to hide stuffed animals. It's safer for the kids to use because there is no risk of the foam balls coming out of the bean bag and it makes them accessible if your child wants to play with a different favourite.
An animal zoo is another great way to store a lot of stuffed animals in the one area. The Zoo or 'cage' can be made out of wood or pipe.
If your children are older and but they still want to display their stuffed animals, why not preserve them in a jar and put them on display? Glass and kids don't mix, so these are best to be stored on high shelves or when the kids are old enough to handle glass jars.
Why not turn similar coloured stuffed animals into a work of art like these toy balls?
How amazing does this chair look? This is definitely a retro way to preserve toys. Each toy has been zip tied to a metal grid chair.
If you have A LOT of stuffed animals, you could make this recliner using the same method as above.
You can turn your stuffed animals into wall art by adding them to a wall mount.
Preserve favourite stuffed animals by mounting them on a framed art hanging.
If you no longer want to keep the stuffed animals in your home, why not preserve their memory by making a print? Geoffrey Ricardo shows you how in this video.
Or you could take out all the stuffing and sew each soft animal skin into a rug.
Do your kids have a lot of stuffed animals? How do you store or preserve your children's beloved soft toys?