The Aussie Day Edition: The Irony of Life!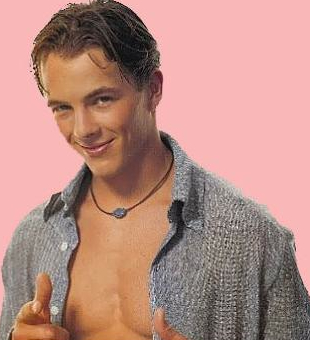 It's 1992, and my sister and I are in her bedroom in Wales in the UK.
The walls are plastered in posters of Dieter Brummer, with the odd Jean Claude  Van Damme thrown in for good measure.  (I am almost ashamed to admit that I wrote Jon Paul Van Damme first and then had to google it as it sounded 'not quite right!')
My younger sister is perched on the corner of her bed, in her school uniform engrossed in 'Home & Away.'
I have gone in to try to pinch something.  It escapes me now what, maybe a hair tie, or a lip balm, but more than likely hair spray.  (Hey!  It was the 90's!)
"Why are you watching this shit?"
"Shut up and get out of my room."
Whatever I was trying to pinch, I've now blown it of course.  Not drawing attention to yourself is the first rule of covert 'borrowing' from a sibling.
"You are obsessed with Australia."
"I told you.  I'm going to live there when I'm older."
"What?  Why? Cos you think you are going to marry Dieter Brummer.  Sad cow.  Oh yeah, and Australia is crap!"
"Shut up Jolene, and get out of my room."
"Whatever!"
"Muuuuuuuummmm…."
Skip ahead ten years to 2002 and my sister is standing at the alter of a pretty little chapel in Melbourne, Australia looking very nervous.  She has her hair and make-up done perfectly…so she is looking stunning, but she is also looking extremely nervous.  I'm talking chewing your own lip off your face kinda nervous.
I know this because I have the perfect view of her.  I am walking up the aisle towards her with my Mum on my arm, wearing a white gown.
That's right.
I'm getting married to an Aussie, and she is my maid of honour.
Ironic, much?  I didn't marry Dieter though, that would have just been too weird.
Skip ahead another ten years, to Australia Day 2012 and I am in the kitchen with my three, beautiful small AUSTRALIAN children in my parents home in Queensland.  (They emigrated shortly after I moved.  I guess there is just no escaping some people!)
We are baking an Australia Day cake and as I smooth the blue icing onto the sponge (which I cleverly added Milo to for that extra Aussieness) I have time to reflect on the journey that has brought me here.
It hasn't always been easy.  When I first moved to Australia and left all of my family and friends and everything I had always known, it was crazy hard.
But it got easier.  As I learned the new language lingo, and made new friends I began to open my heart up to all the positives of my new home, instead of focusing on all the things that I missed back in the UK.
So today, with my little family and parents I celebrated being part of this fabulous country.
Don't get me wrong, I still think about the UK and look forward to the time when I have enough patience to fly with three small children on a 24 hour flight enough money, but if it comes to a toss up between bringing my children up in Australia or the UK, AUSTRALIA you win hands down!
Oh yeah, and just incase any of you were wondering about my sister…she's stil living in the UK.  Like I said…Ironic, much?