Kmart Apologises for Shopkins DVD Blurb Featuring an International Sex and Drugs Tour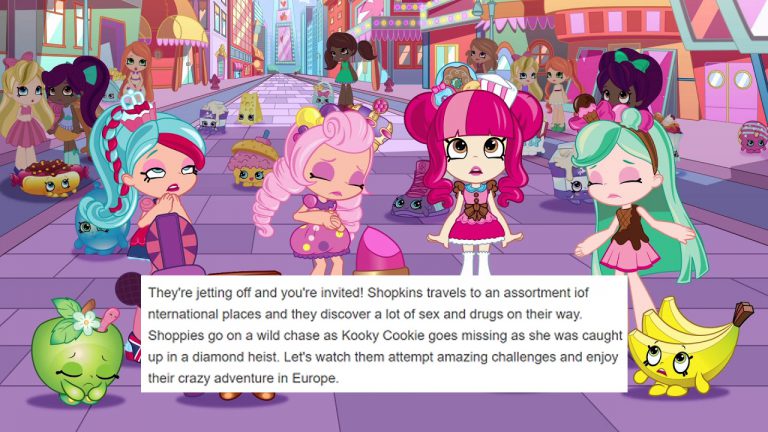 Kmart Apologises for Shopkins DVD Blurb Featuring an International Sex and Drugs Tour
Kmart Australia is doing a bit of damage control after it was brought to their attention that one of their employees had gone rogue on a Shopkins DVD blurb and altered it to sound a hell of a lot more exciting than it really was.
"They're jetting off and you're invited! Shopkins travels to an assortment of international places and they discover a lot of sex and drugs on their way. Shoppies go on a wild chase as Kooky Cookie goes missing as she was caught up in a diamond heist. Let's watch them attempt amazing challenges and enjoy their crazy adventure in Europe."
Bit of a shame that wasn't the actual plot of the DVD, really. We would have totally watched that. We always knew those Shopkins were not to be trusted.
Shocked shoppers discovered the "mistake" on Kmart's website over the weekend, and quickly alerted the discount department store of the racy description on social media. Many laughs were had, as well as lots of good-natured ribbing at Kmart's expense. Predictably though, some were outraged.
"I think you may have a disgruntled employee on your hands," one person said.
Another wrote: "Looks like the Shopkins are going to have one interesting Vacation!"
"Ummmmm Kmart – you need to review your description for kids DVDs. This is disgusting," one mum wrote.
"Shocked and appalled. Shame on you Kmart. I really hope that's not what this movie shows, it's still rated G!"
"What the hell Kmart? You may want to check the wording."
A statement released by a Kmart spokesperson said the company was investigating how the description appeared online.
"Kmart Australia apologises for the incorrect Shopkins World Vacation DVD product description that was published online," the statement said.
"Once we were made aware of the description error, immediate action was taken place to ensure the product was removed online. We are currently investigating to see how this occurred and we are reviewing processes to ensure this does not occur again.
"We once again apologise for any inconvenience caused and thank our customers for their patience."
The hilariously outrageous Shopkins DVD description was removed over the weekend.
Too funny.
Source: Kmart Australia