Parents Working From Home Are Sharing the Hilarious Exploits of Their "Co-Worker" Children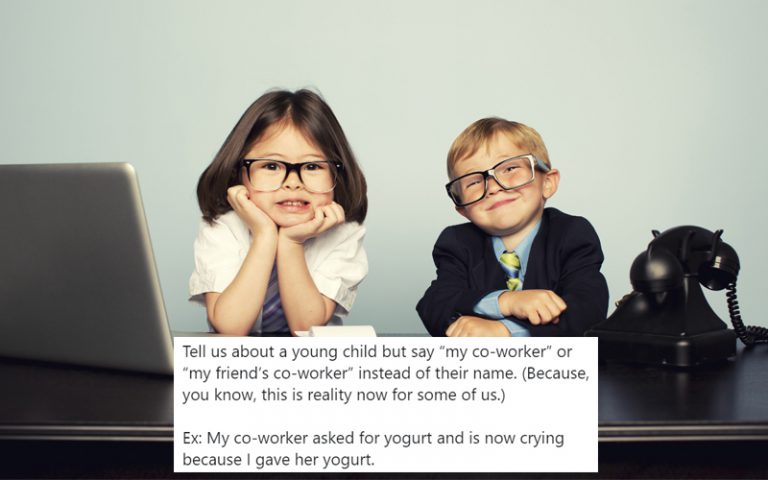 Parents Working From Home Are Sharing the Hilarious Exploits of Their "Co-Worker" Children
Times are tough and getting tougher, there's no denying it. But one thing we can do is make each other laugh while we're struggling in lockdown with our children during these uncertain times. So people have started sharing anecdotes and finding the humour in the things their children do. But as a lot of people are now working from home alongside their kids, they are describing their children as their "co-workers", making the exploits all the funnier.
It started when mum Shannon Dingle shared this tweet:
Tell us about a young child but say "my co-worker" or "my friend's co-worker" instead of their name. (Because, you know, this is reality now for some of us.)

Ex: My co-worker asked for yogurt and is now crying because I gave her yogurt.

— Shannon Dingle (@ShannonDingle) March 18, 2020
It wasn't long before other parents shared their own hilarious "co-worker" stories.
My coworker called me over to see his headstand progress and farted in my face

— Helen Leighton-Fry (@HelsFry) March 18, 2020
My coworkers got into a screaming fight over a single Lego piece.

— A. Schindler (@RegencyKnitter) March 18, 2020
My coworker is refusing to wear a shirt while slapping her belly and yelling "shirt!"

— Jessi Van Der Volgen (@vandervolgen) March 18, 2020
My co-worker just shrieked at the top of her lungs because another co-worker in another room made a sound she did not like.

— Jenn (@Bookish_Jenn) March 18, 2020
My coworker recently learned the f word(no idea where he heard that)and delights in shouting it at me periodically.

— Heather King (@hfaith85) March 18, 2020
My co-worker threw herself on the floor wailing CHEEEEEEESECAAAAAAAKE after I told her we were out of cheesecake.

— Maria W. Norris (@MariaWNorris) March 18, 2020
One of my co-workers decided to walk in, grab my drink… Lick it, and then throw it down on the floor. He then passed gas, laughed, and walked back out. It was really infuriating and unprofessional.🤣

— Sarah Nunyabusiness (@blythesarita) March 18, 2020
My coworkers are running around the office hooting and pretending to be owls 🦉when I said, "hello, little owls," one of my coworkers sneered and said, "owls can't talk."

— Elizabeth Adams (@wc_lizzy) March 18, 2020
My coworker hit my other coworker in the head with a sword.

— Caitlyn Carlson (@carlson_cait) March 18, 2020
my co-worker (who is NOT the dog) licked me while I was on camera to get my attention and also as a joke.

— Abby Norman (@abbynormansays) March 18, 2020
If only we had a proper HR department we could complain to!
Hang in there everyone, and stay safe!