People Are Sharing the Funniest "My Family Is Weird" Stories and These Ones Are Gold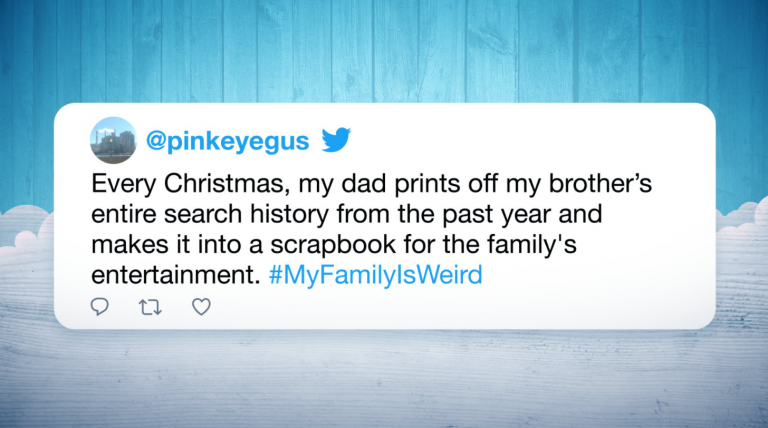 People Are Sharing the Funniest "My Family Is Weird" Stories and These Ones Are Gold
Recently, TV host Jimmy Fallon sent out the call for people to share their funniest "My Family is Weird" stories to feature on his program The Tonight Show.
It's Hashtags time! Tweet out a funny, weird, or embarrassing thing a family member has done or said, and tag it with #MyFamilyIsWeird. Could be on the show!

— jimmy fallon (@jimmyfallon) March 8, 2021
Not underestimating how strange some people can be, his hashtag #MyFamilyIsWeird was flooded with hilarious tales and odd traditions that people do without question.
We can only laugh as we read these funny anecdotes, thinking of how our own families do strange stuff on the regular as well. Each of these tweets could be something that could totally happen in our house at some point!
My brother and I leave one single disgusting burp as the message to each other as a way of saying "call me back" if no one picks up the phone. #MyFamilyIsWeird

— Vanessa Murphy (@vangoesboom) March 8, 2021
Our family will immediately stop in mid action of whatever we were doing, collapse, and pretend we are sleeping anytime a family member comes in the front door.
#MyFamilyIsWeird

— Danielle (@Danielle_Nellie) March 8, 2021
If someone at dinner asks you to pass something, we always pass it the long way…at least 3 times around the table before you actually get what you wanted. We do it to guests too. #MyFamilyIsWeird

— Marge (@margefootball) March 8, 2021
#MyFamilyIsWeird When I was growing up, if anyone took off their coat at my gram's house, she would immediately put it in with a load of laundry. My friends would end up having to wait for it to dry before they could leave.

— The Holy Schmitz (@TheHolySchmitz) March 8, 2021
My Dad hates when the refrigerator door is open. Growing up he'd yell "the penguins are at the door!" as a reminder we were letting out the cold air. Once he accidently yelled "the pilgrims are at the door!" Now my whole fam yells PILGRIMS when the fridge is open.#MyFamilyIsWeird

— Hannah Henry (@hannahatlanta_) March 8, 2021
When we were kids and my mom would leave us in the car to go into a store, my siblings and I would sit really still with our eyes wide open so passerby's would think we were dead #myfamilyisweird

— Shaydars (@shaydars) March 8, 2021
Every year my Aunt apologizes for forgetting my Dad's birthday even though they are twins #MyFamilyIsWeird

— Vicki🍀 (@Andwejigglelike) March 8, 2021
We taught our kids how the cow says "moo" and the pig says "oink" etc. When we got to giraffe, we didn't know, so we said "ding-dong," and it stuck. Now, when somebody rings the doorbell, the kids yell "THE GIRAFFE IS BACK!" #MyFamilyIsWeird

— Tyler Hughs (@TylerHughs) March 8, 2021
My family likes to sit around my dads yard and count the turkeys they see running across the field, once you get to #3 you must take a drink. They call it turkey roulette.#MyFamilyIsWeird

— 🌹Marie🌹she/me/her🍀falpal😁🍀 💝 (@marie_ishfr) March 8, 2021
Every Christmas my dad prints off my brother's entire search history from the past year and makes it into a scrapbook for the family's entertainment. #MyFamilyIsWeird

— Gus Hughes (@pinkeyegus) March 8, 2021
Every time I would leave my great grandma she would bite my earlobe really hard when I hugged her goodbye. Whenever I brought up the issue to my mom she would tell me it's just… what she does. #MyFamilyIsWeird

— Megan (@meganhughes93) March 8, 2021
If we have leftover pancakes someone in the family will hide it in another family members coat pocket or shoe. When you find it you have to say. "I've been pancaked." #MyFamilyIsWeird

— Julie Kessler (@JulieKessler5) March 10, 2021
We had Birthday Man. He left our presents in my parents bathroom. It was Mom's way of having us wait till Dad came home from work to celebrate. We didn't know every family didn't do this. Try telling friends who he was & where he left presents & not sound crazy. #MyFamilyIsWeird

— Kelly Betts (@TheotherKellyB) March 8, 2021
My mom always announces whenever she's about to pass gas no matter where we are. One time in a Target she looked at me and went "It's time" and released the loudest fart I'd ever heard. Then she looked at me again and said "omg why would you do that" #myfamilyisweird

— ° alexis ° (@alex0000s) March 8, 2021
#MyFamilyIsWeird
My family is in the South, and my mom is obsessed w etiquette and dignified behavior. When we have fam dinner in a restaurant, my Sis waits for as many ppl as possible to be near our table and screams, "NO! I CANNOT GO BACK TO PRISON!" Mom always yells "Dammit!"

— Liz Smith (@LizSmith1950) March 8, 2021
While grocery shopping, my son was aggravating me throughout the store. As we were checking out, I said "Brian! That's enough!" With a straight face, he says, "Mom, it's me, John, your son, Remember? You're ok, it's time for your medicine." #MyFamilyIsWeird

— Helen Elizabeth (@HelenEl96490491) March 8, 2021
Yep, I can totally see my weird family adopting any number of these! How about you?
Source: Twitter/The Tonight Show