This Story of a New Mum Being 'Rescued' in the Supermarket by a More Experienced Mum Is Inspiring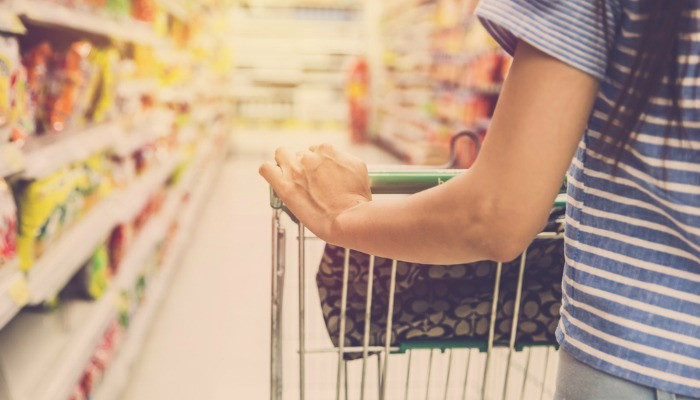 This Story of a New Mum Being 'Rescued' in the Supermarket by a More Experienced Mum Is Inspiring
Do you remember what it was like when you first became a mum?
I do. Those early weeks were a blur of confusion, overwhelming love, fragility, tears, hormones (or a sudden lack thereof), and a desperate urge to get it right and do all the things.
I bunkered down and stayed in mostly, not wanting to take my baby out into the world lest I be judged for not having my shit together. Once I became more experienced those feelings eased up and life carried on as normal.
But those first weeks were crazy, you guys. And I know I'm not the only mum who thought so. It's definitely a difficult time for many of us.
One mum has shared the story of how she rescued a new mum in the supermarket after she was being chastised by an older woman. She remembered the 'new mum' feeling so well as she herself was criticised in a similar situation, so she grabbed the new mum and took her under her wing for the morning.
I met a new mama in the baby aisle today, at our big local supermarket.
Her baby was screaming. She was so tired, and so anxious, with the scraped up mum bun and odd socks, staring wide eyed around her.
And of course, there was a sanctimonious old lady at her side. I rocked up, three out of my four babies in tow, looking for some toddler snacks to keep the peace, just in time to hear the delights of her lecture:
"If you didn't want to be tired, you should've shut your legs. Now give that baby a bottle and stop that squawking."
I looked at her and saw myself, a terrified first-time mum being stared at by what seemed like the whole world. I remembered the fear and the worry, and just wanting to look as though I deserved to have my gorgeous baby, and could actually look after him. And I remember that sanctimonious old lady that had cornered me in the supermarket and told me I was starving my scrawny preemie with my rubbish, tiny boobs. I wailed for days over that.
I'd like to say I was all peace peace love love, but mamas, I saw red. I grabbed this young mama and I marched her down the aisle, whilst shouting over my shoulder at this grizzled old hag. My two toddlers were even silent, as my 3-year-old whispered in hushed tones; Mama said a swear word.
Her babe was 3 weeks old. Her husband had just returned to work and she had braved her first trip out of the house solo. Her poor boobs were so sore, but she was too nervous to feed in public because she felt everyone stared. You know what she wanted, why she braved a trip out? All she wanted was a damned doughnut and to feel like she could mother her baby out in public.
So I sat with her at the in-store cafe, and we fed our babies together, in public, and my eldest tag along plaited her hair (sorry mama, the tangles will take hours to get out) and we chatted. I held her now sleeping babe and I sent my 2-year-old with her to get a bag of doughnuts to bite any further spooky witches lurking in the aisles. We moaned about how awful it was to have sore nipples, and that we were both so tired we could nap there and then, and how much we hated doing night time feeds while our partners lay snoring with their useless nipples and milkless man boobs.
I saw this mama laugh. I told her that her baby was beautiful (he was a gorgeous chunky little thing) and that she was amazing. I loaned her my spare woven wrap I had in the car, gave her a quick demo and gave her a mother's group meet up details. I gave her the breastfeeding support group details. I gave her my number and told her to phone me the next time some old cow decides to assault her in the shopping aisle.
And then I got in my car and ranted all the way home to my three babies about how awful some people are and my two-year-old concluded that we should have farted on that old lady.
Build each other up, ladies, we all need our tribe. There are too many old sanctimonious hags out there not to.
That was seriously fantastic, right? How easy would it have been to keep your head down and ignore the situation, not wanting to get involved? But look at what both women would have missed out on had she done that.
I can only imagine how grateful the new mum must have felt to have a more experienced mama stand up for her and join her for morning tea. Talk about turning a negative experience into a positive one!
The more experienced mum went on to explain her actions, saying that she didn't think she'd done anything that others wouldn't have but I disagree — this is an inspirational example of women sticking together and standing up for each other, something that is less common in our judgemental world.
"I'd like to think I didn't do anything any other mama would have done," the anonymous mother writes. "The mama in question sent me a text me this morning to say thank you again and to say her little one loved the sling so far. I'm hoping to see her at our group meet tomorrow if she's feeling up to it!"
"And no, I didn't get the shopping I went for. But that's okay because there were more important things to deal with. DH's dinner < mama tribe. We had a picnic in the garden instead."
That sounds perfectly lovely. I kind of want to be her friend now, too.
Source: Giphy and Reddit