Hippo Blue Wall Stickers Review (Plus Giveaway)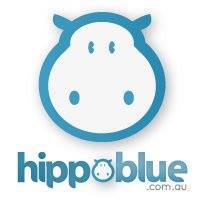 Hippo Blue Product Review
Sponsored post
Having fairly uncommon names, not usually found on pens and key-rings etc, in high street stores, my children always get a kick out of being given something with their name on it. There just seems to be something extra special about something that tells everybody it belongs to them.
The same can be said when it comes to decorating their bedroom. Anything that marks a child's little space in the world as their own is always popular with both children and parents alike.
Back when I was a child, the closest I came to personalising my bedroom was to pick out my own wallpaper (Victoria Plum when I was small, and later that sad clown with the black cap on that was crying! Urgh!)
Fortunately, parents now have the much easier option of ordering personalised, removable wall stickers in a wide array of cute and funky designs to jazz up their child's bedroom. No ladder, or paste required (thank goodness!)
I was recently fortunate enough to receive some products to review from Hippo Blue.  For those of you who are not familiar with Hippo Blue, they are Australia's discount kids labels and personalised gift store, specialising in a very impressive and affordable range of personalised items you and your kids will to love. For those of you who, like me, are sometimes guilty of associating the word 'discount' with…um…let's say 'low-quality,' let me just say that Hippo Blue's products, whilst being easy on the hip-pocket, do not scrimp on quality.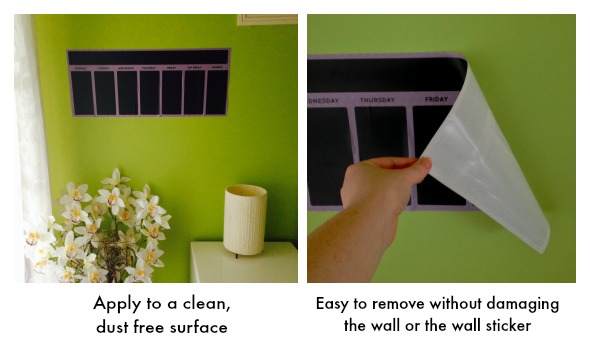 True to their website description, all stickers are easy to apply, and as you can see from the image, equally easy to remove without damaging the surface. I recommend storing both the postal tubes they arrive in, and the sticker backing, so they can be transported at a later date should you move home. Just be sure to remove any dirt or dust from the surface before application – this will ensure that the stickers retain their adhesion when repositioned elsewhere.
This wall sticker chalkboard in my study is going to make it much easier for the whole family to see who should be doing what and when, and the beauty of it is that I can wipe it clean with a chalk-duster or damp cloth at the end of the week and start again. The plan was to put it in the kitchen…but, what can I say? I wanted it for myself!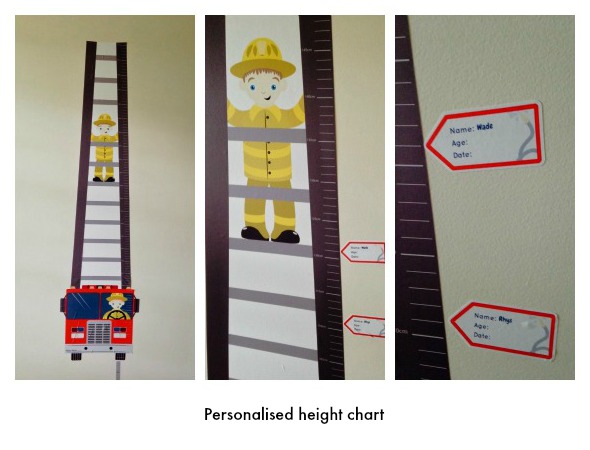 The height chart is going to be a fantastic addition to the boys' room, especially since they seem to be obsessed with being measured every few months. We are currently using the inside of one of the laundry cupboard doors (which obviously isn't quite as attractive or practical as this fire truck height chart. (insert link to product) Also, considering the fact that we are planning on moving in the next few years, this height chart (unlike the laundry cupboard door) can come with us!
I just love the stickers with the boys' names on that you can fill in their age and date details on.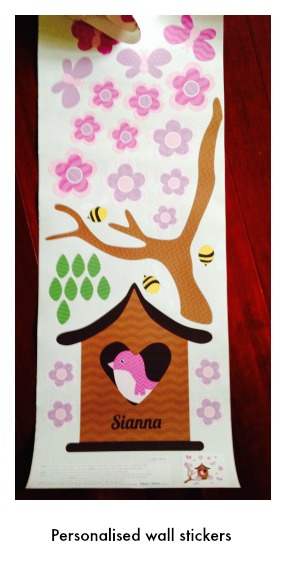 Bubble's room is currently being prepped for a fresh coat of paint, so these gorgeous wall stickers have yet to be applied (much to her dismay). It is important to note if you are going to apply these removable wall stickers to a freshly painted wall, they need to have at least 3 weeks drying time before application.
Note: There is no need to limit yourself to walls alone – the Hippo Blue removable stickers, due to the high quality sourced weaved material used, are suitable for doors, brick and glass.
The Giveaway
Hippo Blue is offering Mums Lounge readers the opportunity to win 1 of 6 $50 vouchers to spend in their online store. To enter, complete the entry form below. Good luck!
Disclosure: I received products from Hippo Blue free of charge for the purpose of an honest review. All thought and opinions expressed are my own.