10 Fabulous Homemade Christmas Gifts in a Jar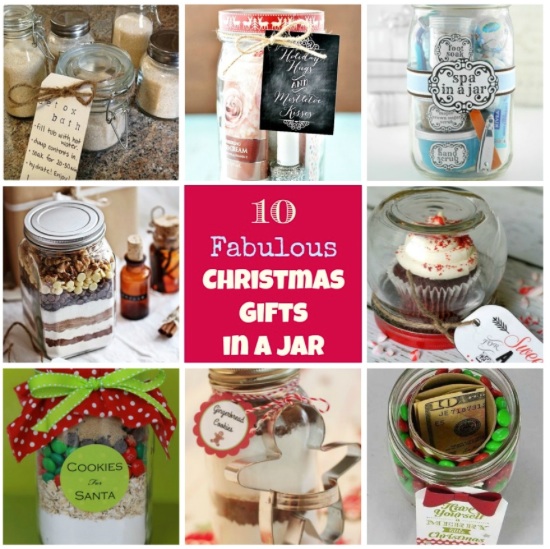 10 Fabulous Homemade Christmas Gifts in a Jar
One of the biggest trends at the moment is giving gifts in a mason jar! Not only are they super handy for transporting, but they're also cheap and look great. If you're looking for a Christmas gift with a difference this year, then these Christmas gifts in a jar are for you… they're inexpensive, thoughtful and just so fabulous!
Brownie Mix
Most of us like to do a bit of baking over the silly season, so why not give a friend a jar of brownie mix... and then invite yourself over to eat them!
Chocolate Chip Cookies
These chocolate chip cookies in a jar make the perfect gift for that special neighbor, friend or teacher. Click here for the recipe and a super cute downloadable gift tag.
Bath Salts
By the end of the year we're all ready to put our feet up and relax. Why not give a friend a jar filled with lovely bath salts for an extra special and soothing treat.
Money
Lot's of people like to give money as a Christmas gift (we know that it's not very personal, but sometimes it's the most practical gift!). So why not make it a bit more special and place the money into a cardboard roll inside the mason jar and then fill the outside with yummy M&Ms.
Cupcake
We all know that a big part of Christmas is the food! Make a batch of cupcakes in mason jars for your Christmas dinner guests to take home with them.
Sewing Kit
If you're looking for a practical gift, then a sewing kit in a jar is just the thing! Perfect for someone who is moving out of home.
Spa Kit
Unfortunately the rush of the silly season means that there's not much time to visit a day spa. Why not bring the day spa home with one of these cute spa kits. Fill the jar with soothing massage oil, moisturizer and hand creams for a relaxing gift.
Pedi and Mani Kit
A pedicure and manicure kit in a jar is perfect for the lady who loves a bit of pampering! Pop in some nail clippers, nail file, hand cream and a gorgeous bottle of nail polish for a cute-as-a-button gift.
Cookies for Santa
If your kiddies aren't already excited enough about Santa coming, then why not give them a jar of 'Santa Cookies' on Christmas Eve. You can make the cookies together and then leave them out for Santa.
Gingerbread Cookies
Pop gingerbread ingredients into a jar and tie a cookie cutter onto the outside with a bright ribbon. This is a gift that keeps on giving… because you get to eat the yummy Gingerbread Men too!
Have you ever made a mason jar gift?
You may also like:
Read: Make Your Own Christmas Baked Gifts – Blondie Jars and Gingerbread Cookies
Read: Easy Christmas Tree Brownies Recipe
Read: 10 Fabulous Homemade Christmas Gifts for Teachers